2017 Workshops
"Traditional  Skills for Tomorrow!"
Guest Speaker
Adam Haritan, Naturalist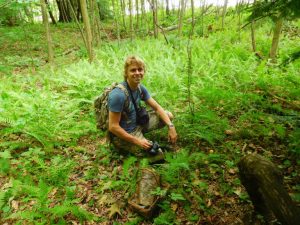 Adam Haritan is a
wild
food
enthusiast
, researcher, and forager based in Western Pennsylvania.  He leads several classes and workshops related to plant and mushroom identification,
wild
food
harvesting, nutritional and medicinal benefits
of
wild
foods
, and
the
benefits
of
nature connection.  He
is
the founder of
LearnYourLand.com
— an online community and database of Pennsylvania's naturalists and nature events.  An avid proponent of

wild

fungi, Adam currently serves as the vice president of the Western Pennsylvania

Mushroom

Club.
Thursday 1:00 pm Mushroom talk followed by a Mushroom  hike.
Workshops and presenters
Schedule – Facilities Hours
Caffeina's Café
7:00AM-10:00PM
Your Conscious Kitchen
Breakfast: 7:30AM-10:00AM
Lunch: 12:00 Noon-2:00PM
Dinner: 6:00PM-8:00PM
Green Man Tavern (by Tent City Boosters Club)
Tuesday-Saturday 4:00PM-12 Midnight
Happy Hour 4:00PM-6:00PM
Theme Nights: 60s, 70s, 80s, 90s, Rave!
Schedule – Workshops
Monday June 19th
9:00AM
Yoga
Robyn Bragg, Hickory Grove. Bring mats.
12 Noon
Sweat Lodge Orientation
Doug Sundling, Sweat Lodge
1:00PM
Fire Tending and the Sweat Lodge
Doug Sundling, Sweat Lodge
3:00PM
Teen Orientation / Tipi Build
Jen Capone, Kids' Village
8:00PM (Dusk)
Monday Sweat Lodge
Doug Sundling, Sweat Lodge. Orientation required.
9:00PM
Paw Paw Opening Celebration
Elf, Paw Paw Fire and Drum Circle
Tuesday June 20th
9:00AM
Yoga
Robyn Bragg, Hickory Grove. Bring mats.
10:00AM
Forging
Blacksmith O'Kelly and crew, Spirit Forge
By appointment. Shoes required.
12 Noon
Backwoods Bartender / Cast Iron Chef Ingredient Reveal
Jen Chaiken, Pavilion
Part 1 of 2  part  orientation  for  Medicine Sweat Lodge, Doug Sundling  Sweat  lodge
1:00PM
Sourdough Part 1
Jess Chaiken, Pavilion
Non-Violent Communication
Heather Sprouse, Green Man
Letterboxing at Wisteria
Nellie Werger, Village Green
Beekeeping
Pam Cooper, Hickory Grove
3:00PM
Healing Your Inner Artist
Pirates, Pirate Merchant Space
Shamanic Journey (Part 1)
Katrina Haas, Hickory Grove. Bring chairs.
Fire Safety for Spinners
Seeker, Spin Zone. Mandatory for fire spinners.
4:30PM
Homeschooling Round Table
Heather Sprouse, Kids' Village.
Shamanic Journey (Part 2)
Katrina Haas, Hickory Grove. Bring chairs.
The Other Kind of Magic
Teens Tipi, Azar. Ages 10-18 only.
7:00PM
Calling the Horned God
ADF, Nemeton
9:00PM
Fire, Drumming, and Dancing
Paw Paw
Wednesday June 21st
9:00AM
Yoga
Robyn Bragg, Hickory Grove. Bring mats.
10:00AM
Forging
Blacksmith O'Kelly and crew, Spirit Forge
By appointment. Shoes required.
10:30AM
Tai Chi
Marty Laubach, Main Stage.
Magical Thinking and Commnity Health
Jared Thomas, Hickory Grove. Bring chairs.
12 Noon
Family Magic Show
Azar, Caffeina's Stage.
Sweat Lodge Orientation Part 2 Medicine  sweat
Doug Sundling, Sweat Lodge
1:00PM
Backwoods Bartender Finals
Jen Chaiken, Green Man
Permaculture Your Life
Zandra Bishop, Pavilion
Raising Kids in Non-Traditional Families
Heather Sprouse, Kids' Village
Tarot (Part 1)
Stephen Calabretta, Village Green
1:32PM
Apex of the Longest Day
OM on the Range
We will ring the bell and ask that throughout the camp we have a moment of Silence and then join together in one voice for a mighty "OM"
3:00PM
Pirate Sing-along
Pirates, Caffeina's Stage
Cast Iron Chef Finals
Jen Chaiken, Heart Hearth
Living Off Grid
Pam Cooper, Green Man
Dancing Your True Self
Kato Tadashi, Main Stage
Herbal Body Care Teen & Youth
Jen Capone, Teen Tipi
4:30PM
Magic Show
Azar, Green Man Tavern. Adults Only.
Imagination Evolution (Part 1)
Racougar and RJ, Pirates' Cove
Chicken -> Veggies
Zandra Bishop, Pavilion
Dreaming Consciously
Noah Mask, Hickory Grove
7:00PM
Solstice Celebration – Turn the Wheel and Crest the WAVE
Meet at Pavilion, or 7:30PM Stone Circle
9:00PM
Fire, Drumming, and Dancing
Paw Paw
Thursday June 22nd
9:00AM
Yoga
Robyn Bragg, Hickory Grove. Bring mats.
10:00AM
Forging
Blacksmith O'Kelly and crew, Spirit Forge
By appointment. Shoes required.
10:30AM
Tai Chi
Marty Laubach, Main Stage.
Tarot (Part 2)
Stephen Calabretta, Village Green
Building a personal tradition"
Beth  Zimmerman, Hickory  Grove (Bring Chairs)
12 Noon
Lambino and Company
Caffeina's Stage
1:00PM
Guest Presenter – Naturalist Adam Haritan
Pavilion workshop, followed by mushroom hike
3:00PM
Pirate Faerie Marshmallow Battle
Pirates, Kids' Village
4:30PM
Imagination Evolution (Part 2)
Racougar and RJ, Pirates' Cove
East Meets West
Marty Laubach, Hickory Grove. Bring chairs.
Fire Basics (Teen)
Karen Martin, Paw Paw. Ages 10-18.
Drumming Bliss (Part 1)
Alex Wedmedyk, Village Green / Rhythm Oasis
Stage Sound Check
6:00PM
Petite Paw Paw (Kids' Drumming and Dancing)
Paw Paw
7:00PM
Recovery Circle
Jim R, Village Green
9:00PM
Women's Healing Ceremony
Jen Capone, Stone Circle
10:00PM
Fire, Drumming, and Dancing
Paw Paw
Friday June 23rd
9:00AM
Yoga
Robyn Bragg, Hickory Grove. Bring mats.
10:00AM
Forging
Blacksmith O'Kelly and crew, Spirit Forge
By appointment. Shoes required.
10:30AM
Tai Chi
Marty Laubach, Main Stage.
Tarot (Part 3)
Stephen Calabretta, Village Green
Appalachian Folk Medicine
Byron Ballard, Hickory Grove
12 Noon
Brian Henke
Caffeina's Stage
Youth Sweat Lodge Orientation and Sweat
Doug Sundling, Sweat Lodge. Age 10-18. Written parental permission slip REQUIRED.
1:00PM
Bicycles
Eric Cornwell, Pirates' Cove.
Local Archaeology
Paul Patton, Pavilion
Finding Your Birth Number
Angie Fawn, Village Green
Fire Safety
Seeker, Spin Zone. Safety workshop required before spinning.
3:00PM
Fashion Show
Nellie Werger, Pavilion.
4:30PM
Imagination Evolution (Part 3)
Racougar and RJ, Pirates' Cove
Connecting with Local Spirits
Beth Zimmerman, Ancestor Mound
Drumming Bliss (Part 2)
Alex Wedmedyk, Village Green / Rhythm Oasis
Building an Apacheta (Part 1)
Regina Rivers, Spirit Circle
Stage Sound Check
7:00PM
Recovery Circle
Jim R, Village Green
8:00PM
Amethystone
Caffeina's Stage
9:00PM
Candle Labyrinth
Seeker, Stone Circle
10:00PM
Labyrinth of the Ways Illumination
Green Faerie Grove, Labyrinth of the Ways
Pirate Pub Sing
Pirates, Green Man Tavern
11:00PM
Fire, Drumming, and Dancing
Paw Paw
12 Midnight
Friday Night Faerie Lights
Angela, Faerie Shrine
Saturday June 24th
9:00AM
Yoga
Robyn Bragg, Hickory Grove. Bring mats.
10:00AM
Forging
Blacksmith O'Kelly and crew, Spirit Forge
By appointment. Shoes required.
10:30AM
Tai Chi
Marty Laubach, Main Stage.
Sourdough (Part 2)
Jess Chaiken, Heart Hearth
Sacred Geometry
Angie Fawn, Village Green
Fermentation
Zack Kouns, Pavilion
12 Noon
Megan Bee
Caffeina's Stage
Sweat Lodge Orientation
Doug Sundling, Sweat Lodge
1:00PM
Lost Crops
Paul Patton, Pavilion
Labyrinth Lessons for Teens/Youth
Lynx, Teen Tipi
3:00PM
Dirt; It's Good S#!t
Zandra Bishop, Pavilion
Mindful Meditation
Marty Laubach, Hickory Grove. Bring chairs.
Unnaming
Angie Fawn, Village Green
4:30PM
Creating an Earth Village Roundtable
Alex Wedmedyk, Village Green / Rhythm Oasis
Labyrinth Lessons
Lynx, Pavilion
Building an Apacheta (Part 2)
Regina Rivers, Spirit Circle
Stage Sound Check
7:00PM
Recovery Circle
Jim R, Village Green
8:00PM
Somebody's Darling
Caffeina's Stage
10:00PM
Tortuga
Pirates, Pirates' Cove
Fire, Drumming, and Dancing
Paw Paw
Presenters and workshop  descriptions
Presenters and Workshops
Adam Haritan, Naturalist and Mushroom Guide
Adam Haritan is a wild food enthusiast, researcher, and forager based in Western Pennsylvania. He leads several classes and workshops related to plant and mushroom identification, wild food harvesting, nutritional and medicinal benefits of wild foods, and the benefits of nature connection. He is the founder of LearnYourLand.com — an online community and database of Pennsylvania's naturalists and nature events. An avid proponent of wild fungi, Adam currently serves as the vice president of the Western Pennsylvania Mushroom Club.
Talk and Mushroom Hike
Thursday 1:00PM, Pavilion
Angie Fawn Mohler – Messer
Merry Meet! My name is Angie but some know me by Fawn. I am a student of the rhythms and cycles of Nature and a lover of All Things Great and Small. I am also an ordained minister with the Universal Life Church as it is my belief that we are all children of the same universe. My eclectic Studies have spanned well over a decade and have touched on many different religions and various Paths of spirituality. I've studied the works of many which has given me the opportunity to see many truths and to respect and draw wisdom from them all. I believe that religion and spirituality are very unique and personal. Everyone finds their path when the time is right… And sometimes you might have to travel more than one path to reach your destination.
The Magickal Practice of UnNaming
Saturday 3:00PM, Village Green
One of the most important skills we can possess, especially in these times of detachment and misunderstanding,is to be able to find some piece of mind and a sense of understanding and connectedness. I would like to share a practice I shared with my daughter several years ago, the practice of unnaming. Unnaming is simply identifying the immanent divinity present in all things. Once you see how easy and helpful this technique can be I am sure you will employ it on a regular basis. Please bring paper and pen or pencil.
Intro to Sacred Geometry
Saturday 10:00AM, Village Green
While in Attendance at Starwood fest 2016, I attended a workshop on "creating sacred geometry". During this art workshop, the instructor said she did not know any of the theory behind the Sacred Geometry but would love to know more. So I thought I could share what I have learned.This workshop will discuss the Basic theory of creation or God Math, Genesis pattern or Seed of Life, Spiral of Life, Fibonacci Sequence and how these are the building blocks of Life.
Finding your Birth Number and Vibrational or Magickal Name
Friday 1:00PM, Village Green
A magickal name is unique to the practitioner and there are several ways to find yours.The most popular method of finding a magickal name is to choose one that corresponds to your birth number and to be in perfect balance. That is what this workshop will help you do. We will find your birth number and then match your vibrational name to that number.All that is needed to attend is your creative mind and willingness to find your "working" or "craft" name.
Alex Wedmedyk
Alex Wedmedyk is a musician and facilitator, blending with the power of rhythm. He is a Master Drum-maker, Drummer, Workshop Facilitator, Performer and Craftsman. In his playshops, he integrates the powerful methods of shamanism, with ecstatic trance rhythms as well as rhythms for fun-fulfillment. Now as a member of the percussion group Wake Up, you can see and feel the transformative effect of rhythm. "Rhythm creates life, life creates the flow. Our inner and outer being manifest on this lifestream as we move forward to parts unknown".
Drumming Bliss (part 1)
Thursday 4:30PM, Rhythm Oasis/ Village Green
Going to the One – as easy as 1,2,3,4.
Drumming Bliss (part 2)
Friday 4:30PM, Rhythm Oasis/Village Green
West African rhythms. Layering rhythms bring out the true power of the drums.
Creating an Earth Village Roundtable
Saturday 4:30PM, Rhythm Oasis/ Village Green
How to create a green, socially responsive,& techno-savvy environment where all prosper.
FREE! Drum Checkup
By Appointment, Rhythm Oasis/Village Green
Alex will start by reviewing a checklist of factors that go into making the very best sound on your natural skin drum: the type of skin, the type of wood, the shape, the rope. Common sense maintenance for your drum. Instructions on tuning and "first aid" measures for improving the life of your drum. Get it fixed, make it sound the best it can be. Get helpful tips on the care of your drum.
Azar
(see performer bio)
The Other Kind of Magic (Teens/Tweens)
Tuesday 4:30 PM, Tipi
Magic with ordinary objects. Ages 10-18
Beth Zimmerman
Beth is a student of many trades, ranging from art to engineering to the metaphysical. She is a priestess and founding member of Guild of the Gods in Lafayette, Indiana. She began working with Purdue University's Pagan Academic Network in 2007, leading rituals for friends and family even before that. She has worked with more than 20 individual students in the 16 years since graduated from her initial training, and has been studying the arts for over 20 years.
Building a Personal Tradition
Thursday 10:30AM, Hickory Grove
History is a long line of people each doing it their own way, but it often parades as a series of experts expecting others to follow in their footsteps. However, you will never be able to see through anyone else's eyes – your experience will always be your own. This workshop will help us all to incorporate the whole of our experience, by discussing our spiritual upbringing, integration of past lives, and exploration of modern faiths. Instead of seeking the historical foundations of others, we'll work on building our own, or shoring them up.
Connecting with Local Spirits, for Worse and Better
Friday 4:30PM, Ancestor Mound
Learning the spirit of one's land is a complex process. Whether nonplanar beings, nature spirits, ghosts, guardians, or even human memories, Beth has learned to connect and communicate with a range of local beings. She wants to help you tune yourself to learn about them, guard against the unwelcome, and find peace with these amazing and fun aspects of our world. This will be hands-on, focused time, learning from our environment. Please ensure all attendees can use the time well – children are welcome to come, if they want to learn for themselves.
Byron Ballard
H. Byron Ballard is a western NC native, teacher, folklorist and writer. She has served as a featured speaker and teacher at Sacred Space Conference, Pantheacon, Pagan Spirit Gathering, Southeast Wise Women's Herbal Conference, Glastonbury Goddess Conference, Scottish Pagan Federation Conference and other gatherings. She is senior priestess and co-founder of Mother Grove Goddess Temple in Asheville, NC. Her essays are featured in several anthologies, she blogs and writes a regular column for Witches and Pagans Magazine. Her book "Staubs and Ditchwater" debuted in 2012 and the companion volume "Asfidity and Mad-Stones" was published in Oct. 2015. "Embracing Willendorf: A Witch's Way of Loving Your Body to Health and Fitness" launched in May, 2017. Byron is currently at work on "Gnarled Talisman: Old Wild Magic of the Motherlands".
Appalachian Folk Medicine
Friday 10:30AM, Hickory Grove
Folk techniques brought by immigrants of the British Isles melded with native herbal wisdom to create a vibrant healing tradition in the Southern Appalachian mountains. Explore the culture, heritage, remedies, herbs, and the twisty history of hoodoo and mountain medicine. Learn deep relaxation techniques & spend time with the Seven Sovereign Sisters of the Appalachian mountains.
Douglas Sundling
Doug has been involved with sweatlodges since 1986. Since 1997, he has constructed and maintained a sweatlodge site at Wisteria. While he has facilitated sweatlodge ceremonies at various other festivals, he currently has focused on facilitating sweatlodges for events held at Wisteria.
Firetending & The Sweatlodge
Monday, 1:00PM, Sweat Lodge
This workshop is open to anyone interested in sweatlodges, but those who wish to do firetending for sweatlodges should attend. You will be instructed on and participate in such fundamentals as how to build a fire that can support and heat the stones, how to handle and carry stones, and how to be the anchor and security for a sweatlodge ceremony. Everyone attending can share their knowledge and experiences with firetending.
SWEATLODGE
A variety of sweatlodges shall be offered during the Summer Solstice Festival, including Open Sweatlodges, a Young People's Sweatlodge, and a 2-day Medicine Sweatlodge. The Sweatlodge Ceremony begins when you contact the facilitator to express your interest in participating. The facilitator will then provide necessary advice on preparing for that particular sweatlodge ceremony. Unless arranged otherwise with the facilitator, you must attend orientation if you wish to participate in a sweatlodge ceremony. Orientations are held at the Sweatlodge Site.
Monday 12 Noon, Sweat Lodge
Orientation for an Open Sweatlodge to be facilitated at dusk, time to be determined at Orient,
ation. Open to adults 18 years old or older.
Tuesday 12  noon, Sweatlodge, Part 1 orientation   for  Medicine  Sweatlodge
Wednesday 12 Noon, Sweat Lodge
Orientation, Part 2 for a Medicine Sweatlodge to be facilitated Wednesday evening, time to be determined at Orientation. See description for Medicine Sweatlodge. Open to adults 18 years old or older.
Friday 12 Noon, Sweat Lodge
Young People's Sweatlodge. Open to young people under 18 years of age. Co-organizer Jennifer Capone, Tween/Teen Coordinator, has permission slips that need to be signed by parents of participants. There will be an orientation, preparation of the sweatlodge site by the participants for a ceremony, and a simple 4-round ceremony designed to introduce young people to the fundamentals of a sweatlodge.
Saturday 12 Noon, Sweat Lodge
If enough interest is expressed at Orientation, a Silent Sweatlodge (no talking) will be facilitated at dusk, time to be determined at Orientation. Open to adults 18 years old or older
MEDICINE SWEATLODGE.
A Medicine Lodge will be facilitated for those who desire to foster clarity with a specific intent or healing of traumas that linger from the past, from violated trust inflicted by blemishes of the will. This 2-day ceremony offers a safe haven to reflect, to honestly express, to share, to have support and guidance from others, and to do so within ritual. Your ears and shared wisdom will be just as important as your desire for clarity and healing. On Day 1, Tuesday, June 20, we gather at noon at the Sweatlodge Site to have orientation and share. Day 2, Wednesday, June 21, will require (1) fasting in a manner appropriate for the individual, (2) gathering at noon to prep the Sweatlodge Site and to discuss the ceremony, (3) having time to be quiet and reflective, and (4) finally engaging the evening sweatlodge ceremony.
If a particular group or individual or couple desires a sweatlodge ceremony for a specific purpose, please talk with Doug or Ginny to see if such a ceremony can be arranged.
Eric Cornwell
Eric is the bike guy. Hailing from nearby Athens he brings joy to those he can with the help of his multifaceted knowledge of cycling and his repertoire of wheeled conveyances that range from the creative and unusual to the highly practical and useful. He was once head of the Athens Bike Co-op, has been a car-free commuter, has taken fully self-supported bike trips, has experience as an extreme cyclist, and is currently the owner and founder of a pedicab company and a custom bike manufacturing/recycling business.
Wielding Wheeled Wisdom
Saturday 1:00PM, Pirates' Cove
This will be a very open-ended workshop about bicycles tailored to the needs of the participants. There may be included, but not limited to, discussion, Q&A, demonstrations, instruction, destruction, and reification. Topics may range from "What do I need to start commuting by bike?" to "How do I tune my shifters?" or even "How do I learn to bunnyhop?" There will be some bikes and tools to mess around with, but definitely bring your own if you can. Group ride to follow.
Heather Sprouse
Heather Sprouse is a parent, activist and native Appalachian from Hurricane, West Virginia. She lives and works in an intentional community where she and her friends are experimenting with keeping land, growing food and raising children together. She has a master's degree in Sociology from Marshall University.
Non-Violent Communication
Tuesday 1:00M, Green Man
This workshop offers theory and practice of communication techniques that focus on clearly and kindly articulating needs. Such techniques are particularly useful in any relationship where boundary work is important: workplace, community, intimacy, magickal partnerships, etc. Effective conflict mediation and the how-to's of "venting" can also be discussed.
Homeschooling Round Table
Tuesday 4:30PM, Kids' Village
Join in a conversation about the how's, why's, challenges and rewards of homeschooling. The group will determine the direction of this conversation. Topics can include legal requirements (it's pretty painless!), secular/earth based curriculum options and tips for creating a productive environment for school at home.
Raising Kids in Non-Traditional Families
Wednesday 1:00PM, Kids' Village
"The best part about living with lots of adults is there is always someone around. The worst part is that I can't get away with anything." – 7 year old. This guided conversation will discuss the challenges and benefits to raising children in non-nuclear, communal and/or poly family environments.
Blacksmith O'Kelly
Demonstrating Artist Blacksmith O'Kelly has been fabricating and welding metal crafts using modern methods since 1993. He has been demonstrating traditional coal-forge blacksmithing at Renaissance Fairs since 2004. Wisteria Solstice 2007 was his first Earth-based festival and he looks forward to returning many times in the future. His interest in blacksmithing has evolved into an effort to pass knowledge of the craft on to others in order that the art does not die. He attends the Unitarian Church in Huntington, West Virginia with his daughters Sierra, Rowan, and Catie (and nieces Cassy and Sammy). One of his goals is to learn more about his Celtic origins, particularly Celtic forging techniques.
Introduction to Blacksmithing
Daily 10:00AM-2:00PM, Spirit Forge. Signup required; age: Teens and Adults.
Participants will be offered the opportunity to forge an athame' or bolline from a railroad spike, or make tiki-torch holders and gardening tools, or suggest their own projects. These sessions will be held for approx. 2 1/2 hrs daily. Available for all ages (under 18 requires written parental permission). Registration signup for all classes starts on the 1st day of the festival. Shoes that cover feet fully/long pants/shirt required. Safety glasses provided and required during forging. Forging is free, but a material fee of $5 to $30 (depending on the craft) will be charged if you wish to keep the finished product. Sign up in advance is required and class space is limited.
Jared Thomas
My name is Jared Thomas and I am a Graduate Student at Marshall University in the field of Sociology. Last year (2016), I attended several Pagan Festivals for an ethnographic field research class. I am studying how festivals promote wellbeing through community health and magical thinking. My experience last year has fueled my compassion behind the community. So much so, that I have considered to continue my work and develop it as my masters thesis.
Magical Thinking Community Health and Wellness
Wednesday 10:30AM, Hickory Grove
I would like to extend the opportunity for you to speak about your experiences at festival and how it has changed your life. Have you been healed? How so? How does festival contribute you your wellness? How important is community? This is just a small sample of questions we will explore during our focus group. Everything covered in the discussion will contribution to the project as data. I would love to hear your story!
Jennifer Capone
I am a mother and homeschooler to a wonderful daughter, a self-taught artist, and fiber artist. I encourage art and creativity wherever I can. I believe children flourish with love, guidance, and play. I am a certified young girls mentor and am currently studying to become certified in NVC (Nonviolent Communication) and teen mentorship, for both genders. It is my hope to bring all that I have learned to the youth of our community.
Teen Orientation / Tipi Build
Monday 3:00PM, Kids' Village
Teen/ youth Fashion Show Challenge
Tuesday 4:30PM, Teen Tipi
Materials and Supplies will be gathered and put together for a teen/youth entry in the Wisteria Fashion Show
Herbal body care-Teen/youth
Wednesday 3:00PM, Tipi
Learn to make natural body care products. We will be making deodorant, facial scrubs, body scrubs, shampoo and hot oils.
Jen Chaiken
Jen is a food-snob, beer-geek, nudie, tree-hugging dirt-worshipper, nurse, and mom to one of the most amazing and aggravating and entertaining seven year old. She is a founding member of Thalia's Brats and is thrilled to be with her family again.
Backwoods Bartender – Ingredient Reveal
Tuesday 12 Noon, Pavilion
Backwoods Bartender – Judging
Wednesday 3:00PM, Green Man
Designed as a companion workshop to Iron Chef Wisteria, Jen and Jess will offer up a secret ingredient intended for Adult Libations. Participants will meet at the same time as ICW and collect the secret ingredient, then present their offerings 24 hours later. Drinks will be judged on creativity, flavor, and how well the ingredient is highlighted. As a bonus, those who participate in both workshops will have the option to use either ingredient for either workshop.
Cast Iron Chef Wisteria – Ingredient Reveal
Tuesday 12 Noon, Pavilion
Cast Iron Chef Wisteria – Judging
Wednesday 4:30PM, Heart Hearth
Run for years by our lovely Pixie (who could not make it this year) – Iron Chef Wisteria. Jess and Jen will try to fill those big (tiny) shoes as hosts. Participants will meet early in the week for the reveal of the Secret Ingredient, and then be given 24 hours to come up with creative and tasty dishes highlighting said ingredient. Dishes will be judged on creativity, flavor, and how well the ingredient is featured. All ages are welcome to participate. Bribery is encouraged. A companion workshop will be offered for 21+ adults only for the same time frame (Backwoods Bartender)
Jessica Chaiken
Jess, aka Wisecracking TofuMidget, is a beer geek, choir wh*re, foodie, word nerd, and (in her spare time) a librarian.
Sourdough from Starter to Finish(er) (Part 1)
Tuesday 1:00PM, Pavilion
Sourdough from Starter to Finish(er) (Part 2)
Saturday 10:30AM, Heart Hearth
Are you intrigued by the mysteries of leavening and fermentation? Do you love a good, crusty loaf of sourdough bread? Do you routinely send the breadbasket back to the kitchen for refills? Then this workshop is for you! Sourdough is the mindfulness of baking. It takes time. It encourages you to pay attention, and yet leave it the heck alone (for best results). We'll create a sourdough starter which you'll feed during the week. We'll talk about how to maintain the starter, including sharing it; share some basic recipes for breads, rolls, and pancakes; and cover some troubleshooting when things go a-rye (get it! :D). You'll head home with an active starter, infused with a little Wisteria flora, to begin your baking adventure. Gods willing, we'll even try baking some rolls!
Jim R
Jim R. Has been hosting these circles at Wisteria for many years and is looking forward to having an open spiritual journey with you..
Recovery Circle
Thursday, Friday, Saturday 7:00PM, Village Green
An hour of fellowship for all who have an unhealthy addiction and a desire to recover from the hopeless state of mind and body.
Karen Martin
Karen Martin, M.Ed. has been a full-time freelance writer since 2007, working mainly on educational texts. Prior to that, Karen worked as a teacher-trainer in Romania, Jordan, and Mauritania and served as a Peace Corps volunteer in Morocco. Karen's interests include outdoor survival skills, arts and crafts, comparative religion, and a variety of spiritual practices.
Intro to Magical Manifestation –Teen/youth
Tuesday 3:00PM, Pavilion
What is "magic," and how do people use it? One popular definition says that magic is "the Science and Art of causing Change to occur in conformity with Will." In other words, changing your world through the power of intention. This hands-on workshop will present some of the basic theory of magic (what it is, what it's used for, ethics) as well as some of the foundational techniques of magical practice – real practices to put into use in real life. Then, we'll put the theory into practice. Each participant will choose a focused intent and create a magical item that expresses their intent. Typical intents might focus on a concept (Love, Luck, Compassion); dedication to a deity or spiritual figure; or even a specific intent such as "passing my driver's test," breaking a bad habit, or starting a new health routine. Our medium? Beadwork. You may choose to make a bracelet, a keychain, prayer beads, a gift for the fairies, a keepsake in honor of the ancestors, or whatever else you can dream up that fits your intent. Beading is simple – I'll show how to do it and help you in every step. Finally, we'll discuss techniques for using your magical item as a tool for manifesting your intent.
No materials fee is required for this workshop – beading is free for all participants.
Not sure you're into magic? No worries – all views are respected here, including skepticism! You don't have to participate if you'd prefer to simply watch and listen. Or, you can make yourself something sparkly with a non-magical intent, just for the fun of it.
Campfire Basics –Teen/youth
Thursday 4:30PM, Paw Paw
In this workshop, we will review the basics of constructing a safe, functional fire at your camp. In particular, we will discuss: the three elements needed to start a fire; building materials; tools and gear; safety issues and precautions; methods of igniting a fire; and how to maintain the fire once lit. Participants will help build and light a demonstration fire for hands-on practice.
Katrina Haas
I'm a shamanic practitioner. I am open to sharing shamanic life skills, which were critical to me when I learned in August 2015 I had invasive ductal carcinoma (breast cancer). I am cancer free today and only taking medicine from the earth because of ancient shamanic tools and practices that guided me through a process of transformation. From journeying, dance, singing, and drumming, to energy clearings and soul retrievals my heart is open, full, clear and powerful.
I help people connect with spirit using for personal transformation because of their connection with their individual inner healer, warrior, teacher and visionary. Together we build your personal spiritual cosmology, make connections with your helping spirits, learn skills to tend those relationships and how to turn to them when life's challenges present.
When I'm not connecting with spirit (or doing my ordinary reality job as a fundraiser in a national park) you can find me growing sacred tobacco, creating embroidered beaded jewelry or at a live concert dancing.
Shamanic Journeying
Tuesday 4:30PM, Hickory Grove
Shamanism is an ancient spiritual practice. There are core shamanic practices and tools that are used by ancient peoples around the world, which help us connect with universal energies for guidance, healing and support. During this hour workshop you will learn about one core practice: drum journeying. Unlike a free-form drumming circle, the leader of a shamanic drumming circle use a frame drum and plays a simple and repetitive beat to induce a trance state to receive information about a specific question.
We will do two journeys. The first will allow you to gain experience. The second, you will journey for another person in our group to meet and bring back a power animal and a message form the animal as to how it wishes to be honored in a mask. Each journey will last 15 minutes.
Ritual Process:
1. Smudging
2. Teaching background of shamanism and shamanic journeying with the drum
3. Shamanic Drum Journeying
4. Group discuss
5. Participants invited to create a power animal mask*
*I would like to offer participants the opportunity in a second workshop for a $20 fee to make their own mask. I would provide all the craft materials, including a paper mask, paint, fur, beads and feathers.
Lynx and the Green Faerie Grove
Originally from upstate New York, Lynx has been part of the local pagan community of his hometown as well as involved with Between the Worlds (a Queer Pagan Men's gathering) in Athens, Ohio where he has volunteered as a Brotherhood of the Spectrum Blade Member and serves as High Priest of the security Brotherhood. He's been a member of the Green Faerie Grove for 2 years and is an ongoing caretaker of the earth and sacred space.
Practicing pagan since 2006, Rev Lynx's "Path" is best described as Totemic Shamanic Druidry, preferring work with Nature and Animal guides and Totems. For years Lynx taught and facilitated Pagan & Wicca religious studies & Services at various correctional institutions in New York. He continued his Prison Ministry service from 2009 up until 2015 when he moved to Columbus, Oh. He is also Grove Priest for the Nemeton of the Cervidae, a seed of the Nemeton of the Ways tradition(www.nemetonofthecervidae.org)
As an ordained Keeper of the Nemeton, Lynx has been specifically charged to carry the message of the Labyrinth & Grove into the world to nurture and develop sacred spaces throughout the Land
Labyrinth Lessons
Saturday 4:30PM, Pavilion
This in depth look at the Labyrinth of the Ways will go into the Myth, symbolism and spiritual aspects of the Labyrinth. Lynx will also be sharing his personal story behind Her creation, the design choices, the process & problems of manifesting her, and the "living labyrinth" aspect. There will also be some time for Q & A afterwards. If you have a rock from home or a sacred space, please feel free to bring it along, after the workshop we will wander up to the Labyrinth for a group walk of the Labyrinth."
Labyrinth Lessons for Teens/Youth
Saturday 1:00PM, Tipi
This workshop is a very practical approach to labyrinths in general and the Labyrinth of the Ways project. Lynx will give a small talk talk followed by some time for Q & A from attendants. We will cover some of the mythology of labyrinths, symbolism & some ways to approach a Labyrinth walk. If you have a rock from home bring it along, we will end the workshop with a trip up to the labyrinth, so you will have a chance to add your rock to the Ways as well as a chance to walk the Labyrinth as a group.
Marty Laubach
Marty Laubach is a Professor and Chair of the Department of Sociology and Anthropology at Marshall University who studies and teaches on the social processes underlying knowledge, science, and religion – in particular as they intersect in spiritual experiences. He has been a long time presenter at festivals and an active participant in the American NeoPagan community. He was one of the founders of the Crystal Serpent (a Bloomington, IN ritual Magick group) and the Bloomington, IN, and Huntington, WV, CUUPs chapter. He was an elder of the ELF Lore Family from 1985 to 1992 and editor of the Elven Chronicles newsletter, and has co-organized major rituals (with Bete Cabal) at past WinterStar Symposiums and at ELF Fests. He has published articles on a number of issues relevant to American Neo-Paganism including how Neo-Pagans "do" and use experiences of psychism. He has practiced and taught Tai Chi since 1976, using William Chen's adoption of Cheng Man-Ch'ing long and short forms. He currently teaches Tai Chi beginning and advanced classes in Huntington, WV.
Tai Chi
Wed-Sat 10:30AM, Main Stage
Tai Chi is an ancient Chinese martial art practice that is like meditation, yoga, and martial arts combined into one. I teach William Chen's Yang style short form, and while I cannot teach the entire practice in a weekend, I can demonstrate it and teach enough to give you a flavor that can help you decide to continue. If you do practice one of the meditative forms, please come and let's demonstrate them for people at the festival.
Mindfulness Meditation
Saturday 3:00PM, Hickory Grove
Mindfulness meditation has become the most recent corporatized fad from the Newage version of spirituality, but subtracting the corporatist hype it really is a meditation form that can be most helpful in your spiritual practice and life in general. This workshop will offer a discussion (building on my East Meets West workshop), offer a guided meditation that builds on the practice, then sets time for an actual mindful meditation.
East Meets West: Buddhist and Western Conceptions of Self and Consciousness
Thursday 4:30PM, Hickory Grove
This presentation will contrast the conceptions of self and consciousness by the Shamballa Buddhist tradition and by the western social psychological traditions (James, Mead, Schutz, and my own). We will cover the point of consciousness vs the objects and stream of consciousness and how this understanding can help in meditations and communication with spirit
Nellie Werger
Nellie Werger is a long time participant in Theater and Music. She has been director, designer and producer of many productions as well as a professional costume designer for 20 years. She is currently the costume designer for the Ohio University opera, and the co-director of SATB: a different kind of choir. She is the founder of the Wisteria Solstice Fashion Shows, which promote and encourage expression through design with recycled materials.
Letterboxing at Wisteria
Tuesday 1:00PM, Village Green
Letterboxing is an intriguing "treasure hunt" style outdoor activity. Letterboxers hide small, weatherproof boxes in publicly-accessible places. At Wisteria, there are 9 letterboxes hidden around the campground. In each box there is a small journal, a rubber stamp and a stamp pad. The clues to the locations are on the postcards and the tshirts. When you find a letterbox, please leave a message in the journal and use the stamp to document your find in your own journal or on a Wisteria map available in the office. Please return the box and all the contents to where you found it for the next person. Stamps designed by Laura Werger.
Noah Mask
Noah Mask is a LMT by trade, practicing in multiple massage modalities for over six years. An avid dreamer since childhood, he has spent over a decade passionately exploring various dreamwork methods. In doing so, Noah developed a personal dream practice with a focus on conscious dreaming and attributes many facets of his own spiritual journey to those oneiric experiences. Upon realizing how disconnected many are from their dreams, and feeling called to help spread their significance, he now takes immense joy in helping introduce others to their own dream practice while navigating with both intention and purpose.
Dreaming Consciously-An Open Discussion
Wednesday 4:30PM, Hickory Grove
An intro to intentional dreaming as a spiritual practice. Covering basic and advanced techniques for dreamers of all skill levels. Research has suggested dreamers who are aware within their dreams have a higher aptitude for attentional focus, resilience and increased self awareness. Though this ability comes natural to some, it can be cultivated and grown within anyone. Everyone dreams, but few revere them. This will be an open group discussion on dreaming with awareness, the goal being to share experiences, establish/enhance personal practices and participate in collective dream analysis. Topics may include standard lucidity, active dreaming, conscious dreaming, waking practices and more.
Dreams have been an integral part of daily life since the dawn of mankind, it is only recently most have forgotten this awesome power. Join us for an uplifting and informative talk, where all practices and contributions are welcomed.
Please bring chairs or something to sit on.
Pam Cooper
Pam Cooper is a shareholder of Wisteria, Inc. and has been involved with Wisteria since 1996 before becoming an official shareholder in May 2007. She has held a number of officer positions over the years as well as volunteering and working the various events held at Wisteria. Pam lived off grid during the warmer months before moving to Wisteria in 2011 and started living off grid full time. Pam is currently focusing her energies on her finishing her off-grid home and working with her bees at her apiary.
So you want to be a beekeeper.
Tuesday 1:00PM, Hickory Grove
So you are interested in becoming a beekeeper. This workshop will provide a brief overview on things to consider, costs involved and the commitment required in becoming a beekeeper.
You will get an overview of the various jobs that the bees have and become familiar with terms and equipment used in beekeeping. You will also hear about the joys and sorrows of beekeeping as well. So come with your questions and helpfully leave with even more.
Living Off Grid – What exactly does that mean and is it for me?
Wednesday 3:00PM, Green Man
Living Off Grid is not for the faint of heart. It involves a lot of work and planning. There are lots of variations and meanings for what is living off grid. This workshop will talk about the basic to the most complicated meaning of living off grid and everything in between. How you live off grid is a very individualistic decision and depends on what your reasons and goals are. Never let someone else say you are doing it wrong just because your way is not their way. We will talk about the planning that should take place before making the leap and things that we don't consider when we live on grid that we have to when we move off grid. This planning involves the practical as well as the emotional side of moving off grid.
Bring your questions and ideas and be ready for what I hope will be a good conversation.
Paul Patton
Paul Patton holds a PhD in Anthropology from the Ohio State University. His research focuses on archaeobotany and Native American plant domestication in the Ohio Valley.
The Archaeology of Appalachia Ohio
Friday 1:00PM, Pavilion
The people who lived throughout southeastern Ohio before European conquest of left no written record; what we know of their lives and culture is available to us only through the archaeological record. This workshop will explore what we know of the ancient people who made their home in Appalachia Ohio and how we can use that knowledge in our own practices of land management and stewardship.
Growing lost crops of Eastern North America
Saturday 1:00PM, Pavilion
Over 3000 years ago, native peoples throughout eastern North America domesticated a number of indigenous plant species. With exception of sunflower and squash, these crops have been largely lost to time. In this workshop, you will gain familiarity with these lost crops, learn how to identify their wild relatives, explore what we know of their use in the past, and learn about current efforts to redomesticate them.
Pirates of the C.U.C. Constantine
(see performer bio)
Healing Your Inner Artist, Unblocking Artist Block Through Self Care
Tuesday 3:00PM, Pirate Merchant Space.
Many of us have suffered from creative atrophy as a result of self neglect and other toxic habits. During this workshop Pirates will discuss techniques to unblock your inner artist and begin the process of creative healing. This workshop is for all artists of every discipline. This workshop will also directly tie into the theme of this year's Tortuga ritual.
Performance – Family Friendly Sing-Along
Wednesday 3:00PM, Caffiena's Stage
Join the Pirate's at Caffiena's for a family friendly set of lively pirate songs.
Marshmallow Fairy Battle
Thursday 3:00PM, Kids' Village
No sharp weapons, only sweet ones! The Pirates lead one hour of child/family friendly activities at Child Care culminating with an epic marshmallow battle between the fairies and the Pirates. The Pirates will be at Kids' Village at 3:00 pm, and the marshmallow battle begins promptly at 3:45 pm to allow time for clean up. Please plan accordingly.
Pub Sing
Friday 10:00PM, Green Man Tavern
Pirate Pub Shanty Sing Along. Bring your good attitude and your love of the sea. Come watch the Pirate's performance which will include adult renaissance style songs, old sea shanties, and new Pirate original compositions.
TORTUGA!
Saturday, 10:00PM, Pirates' Cove
AGES 21+ NO EXCEPTIONS
A formal ritual precedes the celebration
This year's ritual theme is: ART is MAGIC is LIFE. We will be exploring through ecstatic worship the connections between art, creation, and creativity as it is relevant to our daily and spiritual lives. Fine attire, beverage to share, and musical instruments are encouraged. Leave your inhibitions in your tents, along with any minors. Please, no cameras in ritual space! If you are not clearly over the age of 21+, please bring an I.D. Please see our Pirate Merchant Space for more details and ask a pirate about this year's ritual theme.
Regina Rivers
Regina Rivers is a shamanic practitioner and owner of Rivers Healing Arts, LLC near Pittsburgh, Pennsylvania. Her modalities include Relationship Coaching, Shamanic Journeying, Shamanic Extractions, Soul Retrievals, Shamanic Energy Healing, oral Life Path Vision Quest sessions, Shaman's Oracle card readings and Psychopomp (Death Midwifery) services. She has been coming to Wisteria's Summer Solstice events since 2006. Regina has been a member of the Society for Shamanic Practice since its inception in 2004. She teaches workshops and seminars nationally.
Website: www.rivershealingarts.com.
Building an Apacheta (Stone Shrine) for Pachamama (Mother Earth)
Friday 4:30OPM, Spirit Circle (Part 1)
Saturday 4:30PM, Spirit Circle (Part 2)
2-Day Workshop: Building an Apacheta (Stone Shrine) for Pachamama (Mother Earth). Apachetas, in the Peruvian Shamanic tradition, are intentionally created structures or shrines made of stone relatives. The pattern is laid in a particular format using a sacred process. Apachetas are created as a form of reciprocity…an offering back to the land for all it gives to us. They can also be created for individual intentions.
Together, we will create an apacheta that will become a part of Wisteria. It can be added to as time goes by and used for future ritual and sacred ceremony.
Participants are asked to bring 1 or 2 stones from your home to become a part of this apacheta. You are also encouraged to bring flowers, feathers, musical instruments and other gifts for celebration during the 2nd day of our workshop. You will be given instructions from which you can create your own apacheta at home.
Day 1 will include a discussion about apachetas, including the origin and meaning behind these sacred stone shrines. You will have a full understanding of what we will be creating together and why we are creating it. We will shamanically journey to the Wisteria Land Elementals to gain permission to create this apacheta on their land.
Day 2 will include the actual step-by-step creation of and then the dedication and activation of the apacheta. We will give offerings to the shrine in thanksgiving to Pachamama and the Land Elementals in the form of flowers, feathers, music, song and dance.
Robyn Bragg
Robyn is a certified yoga instructor (RYT-200) trained in Columbus, OH, at Yoga on High and teaches Hatha Yoga at Body Wisdom Healing Group, LLC. Her professional background in healthcare keeps her safety-centered; her training as a yogi gives her spiritual and energetic awareness; and her passion for getting the most enjoyment out of life makes her ever-willing to embrace new experiences and people.
Breathe, Stretch, and Relax with Hatha Yoga
Mon-Sat 9:00AM, Hickory Grove
Join Robyn, RYT-200, for a blissful start to your day. Whether you are in the mood to stretch your muscles, quiet your mind, or just want to get moving in the morning, this gentle Hatha class is for you. In this clothing-optional session we will focus on waking the body up with a series of movements synchronized to the breath, stretching from head to toe, and calming the mind with mindfulness meditation. This class will leave you relaxed, refreshed, and ready for an amazing day. All experience levels welcome, including beginners. Please bring a yoga mat and towel if possible.
Seeker
Seeker has been attending Solstice celebrations at Wisteria for over a decade. Firedancer, teacher, playwright, science geek, seamstress, and actor, she built her first labyrinth by mowing paths to create a classic seven-circuit path in her field – a labyrinth big enough to be seen by GoogleEarth! She began building labyrinths for others when asked to create for Earth Warriors in 2010. She has since designed many originals, as well as recreating classical labyrinth designs. Seeker also takes care of firespinning safety at Wisteria Solstice, and will be performing with Amethystone. She will also be presenting Wisteria's Fire Spinning Safety workshop.
Fire Safety
Tuesday 3:00PM, Village Green
Friday 1:00PM, Village Green
Why fire safety? Because, by being safe, we help keep fire at our festival! Become more comfortable with fire, learn to spot for a spinner, how to put out toys, what to watch out for when fire is involved, and treatment of the inevitable burn. Highly recommended for new folks who would like to light up their fire toys eventually, and for those who plan to be a spotter for any spinner. This is not a fire spinning workshop, but one that focuses on the ins and outs of being safe at a festival with fire. Appropriate for those new to fire, those who wish to brush up on their safety skills, or those who want to find out what Wisteria's fire guidelines are all about.
Any one who wishes to spin fire at Wisteria's Summer solstice will attend one of the fire safety sessions or have your equipment checked by Seeker. There will be fire spinner bands.
**Fire safe clothing is MANDATORY. No synthetics or sarongs, please, as we will be playing with fire, for mature tweens through adults, please
Stephanie Collage (Racougar Moon)
My name is Stephanie, most known in the community as Racougar Moon. I have been coming to Wisteria for many years and have participated as volunteer, dancer around the fires and bubble enthusiast. Nature is my religion and the fields and woods are my church. Through costume and dance I continue to learn and open myself to the healing music and energy of the drums and the sacred space. At the young age of 12 years old I was in a severe accident where I crossed the veil and had an out of body experience that changed my perceptions and understandings of myself and the entire world around me. I am an Indigo soul… I am the muse to spark imagination and purpose to those around me. I have had an affinity with animals since I was a child, and later on in life lived out my dreams and actually worked hands on with many different exotic animals such as Cougars, tigers, and lions along with many more at an exotic animal rescue. I also worked at a farm animal rescue where I learned quite a bit about where our food really comes from and how it is cared for. Through the animals and their lessons I have evolved to who I am today… and would love to share their messages and stories of finding inner strength and balance.
Imagination evolution
Wednesday 4:30PM, Pirates' Cove (Part 1)
Thursday 4:30PM, Pirates' Cove (Part 2)
Friday 4:30PM, Pirates' Cove (Part 3)
Would you like to bring out your inner animal… inner child… inner fire? Come with us and let us help create an enchanting doorway straight to your imagination. With costume we can let go of the daily mundane and let our spirits dance wild and free. We use old clothes, craft items and nature's bounty to create fun and ritual attire. Come out of the shadows, take my hand and come nearer to the fire in safety and love. Let our ancestors both the beasts and the two-leggeds dance with us in celebration of this life and all of its blessings. Please bring any old costume, face paint, yarn, shiny things or anything to create with or donate for others to use.
Steve Calabretta
Steve Calabretta is from East Canton, Ohio. He has attended many of our festivals.Steve was once a class co-ordinater of Canton Area Pagans when it existed and he used to have a yahoo group called The Wheel Of Light. He now has a fun group on Facebook called The Happy Clan. Steve has been Studying Tarot For Dummies and taking lots of notes on it and wishes to retell it in a fun way so we can all learn more about the Tarot deck in a more basic perspective. Don't let the title fool you.. There is a lot to learn from this,which is why I am breaking it up into 3 parts. Please bring with you a tarot deck,preferably Waite or Wood deck,notebook,pen and yourself.
Tarot For Dummies Retold Part 1 Getting Started
Tuesday 10:30AM, Green Man
We will discuss the meaning of Tarot. Who uses it.Different types of decks.Different types of mystery schools. Also a bit of Tarot history.
Tarot For Dummies Retold Part 2-The Deck
Wednesday 10:30AM, Green Man
Here we will learn the 22 major Arcana Cards,We will also discuss The Minor Arcana cards and The 16 court or Royalty cards.There will be a lot to discuss here ,so please if you can try to have your deck in proper order so you don't need to hunt and hunt for your cards to look at.
Tarot For Dummies Retold Part3-Spreads
Thursday 10:30AM, Green Man
Here we will be learning different types of spreads. We will also partner up and practice using different spreads together.
Kato Tadashi
Gio Kusanagi (Kato Tadashi) holds a Masters of Arts is Exercise Science and Kinesiology, Ph.D . in Clinical Psychology, and is a Certified Evans Method Modern Dance Instructor. As a dance choreographer, he has been a commissioned choreographer for Dayton Performance Art Festival (2008), Lower Manhattan Asian American Dance Festival (2012), Highmark Pittsburgh First Night curated by Pttsibrugh Cultural Trust (2009, 2010, 2011, 2012, 2013, & 2014), and a Resident Artist at Bronx Academy of Arts and Dance (2012), Center for Remembering and Sharing in Manhattan NY (2016), and at Leimay at Cave in Brooklyn NY (2016). As a movement therapist, he had taught numerous workshops, including, but are not limited to: Tai Chi and Qigong Workshop, Healing through Movement and Color (Color Eurythmy), Moving your Poetry (Speech Eurythmy), and Butoh Dance Workshops. He holds a good reputation for his ability to tailor to the needs of each workshop participant and yet still creating a cohesive and supportive group environment toward healing and growth.
Dancing Your True-Self (Eurythmy Workshop)
Wednesday 3:00PM, Main stage
When we attempt to create a peaceful world, we realize that the outer reality is the reflection of our inner reality, and hence we would need to achieve inner peace in order to live in a peaceful world. And, one prerequisite for inner peace is our alignment with our true self. Many of us may have felt dissonance between our inner truth and societal structure as we were growing up. This workshop provides the opportunity for those who have been feeling lost and disconnected from our inner reality, as we co-create a supportive and nonjudgmental group environment for mutual self-exploration through movements.
The workshop will begin with an ice-breaking activity, followed by the introduction to Eurythmy (movement art developed by Rudolf Steiner and attempts to translate various vibrations into dance movements) as we explore the movements that correspond to colors and sound of spoken words. Subsequently, participants will be guided through a contemplative self-exploration stage, followed by the embodiment of 'inner voice' through authentic dance movements, as inspired by Eurythmy.
This is a perfect workshop for those who are searching for a catalyst for re-alignment with their true selves, or any creative artists who are searching for a new interdisciplinary inspiration to their creative endeavor.
Please avoid coming with full stomach or with alcohol or other chemical substances in your system, and remember to bring your water and open-mind, in order to maximize the joy of being a part of us.
Zack Kouns
Zack Kouns works in capacities such as lecturer, bandleader, performer, author, visual artist, film maker, researcher, and composer. He has a healthy obsession with making and teaching about the cuisine of fermented foods and considers himself a fermentation missionary.
Foraging and Fermentation: The Ancient Diet
Saturday, 10:00AM Pavilion
I typically begin with a brief discussion about the history of fermentation and foraging and their contextual role in the survival and advancement of the human species. I use poetry, myths, scholarly research, story telling and audience interaction to elaborate, as I find these the best method to keep everyone engaged! Then, if time and weather allows, I lead the participants on a brief nature walk, where we gather wild edible plants. When we return, I provide a hands on lesson of how to use the plants to make a simple ferment (typically a kraut or kimchi or some variant.) Then, I often bring some of my fermented experiments along and provide a light brunch or dinner for the folks who are interested in exploring the cuisine of wildcrafted ferments! Then, I open the floor for a Q and A.
Zandra Bishop
Mom, Wife, Peacemaker, Wannabe Permaculturist, Planter of Seeds of Peace, Love&Liberty
Dirt; It's Good S#!t
Saturday 3:00PM, Pavilion
We'll begin with a brief overview of Permaculture; a holistic system that uses traditional knowledge today to create a better tomorrow. Then we'll discuss some of the Whats, Whys, and Hows we can all become good dirt farmers, whether you're rural or urban, carnivore or vegan. And also how growing our own dirt, and our own food, is like printing our own money! Best of all, I hope to have some beautiful dirt for us to play with while we talk:)
I will have a limited selection of handouts for people to share plus a small lending library for people to check-out during the week. For each of my workshops you attend you will receive a raffle ticket for a chance to win a book at the end of my last workshop. Are you ready to play in the dirt?!?!
Permaculture Your Life
Wednesday 1:00PM, Pavilion
We'll begin with a brief overview of Permaculture; a holistic system that uses traditional knowledge today to create a better tomorrow.
Might it seem silly to get in your car, burn gas driving to the gym, park as close to the door as possible, pay a membership fee, spend an hour or 2 moving in place and picking heavy things up and putting them back down, then burning more gas to drive back home when you could maybe walk/jog/bike to a nearby store, fill up a backpack, walk/jog/bike back home and have gone shopping while getting your workout? Learn ways to "stack functions" in your life to save money, improve health, and have more time for fun!
I will have a limited selection of handouts for people to share plus a small lending library for people to check-out during the week. For each of my workshops you attend you will receive a raffle ticket for a chance to win a book at the end of my last workshop.
Transform a Chicken Into a Veggie in 5 Easy Steps, Or Less!
Wednesday 4:30PM, Pavilion
We'll begin with a brief overview of Permaculture; a holistic system that uses traditional knowledge today to create a better tomorrow.
Whether you have chickens, eat chickens, or just use their eggs, here are tips for maximizing their potential for creating good dirt and, ultimately, good veggies!
I will have a limited selection of handouts for people to share plus a small lending library for people to check-out during the week. For each of my workshops you attend you will receive a raffle ticket for a chance to win a book at the end of my last workshop.
Teen/Youth Programming
This year we are offering a series of Workshops specially for Kids aged 10-18 coordinated by Jen Capone
Monday
4:30PM Kids' Village
Build your own shelter. They will be building a tipi to be their own workshop space. Wisteria has the canvas, poles and ropes and will assist them to raise it. This will be their space.
Tuesday
3:00PM, Pavilion
Introduction to magic with Karen Martin
4:30PM, Tipi
Fashion Show Challenge with Jen Capone
Wednesday
3:00PM, Tipi
Herbal Body Care Teen & Youth with Jen Capone
4:30PM, Tipi
The other kind of magic with Azar
Thursday
4:30PM, Paw Paw
Campfire Basics with Karen Martin
6:00PM, Paw Paw
Petite Paw Paw – Drum and Dance for Kids (all youth ages)
Friday
10:00AM, Infinity Forge
Forging with Infinity Forge (please sign up Monday or Tuesday). Written parental permission required. Sturdy clothing and closed shoes or boot required.
12 Noon, Sweat Lodge
Orientation for Youth Sweat Lodge. Written parental permission required
3:00PM, Pavilion
Fashion Show
Saturday
1:00PM, Meet at Pavilion
Labyrinth Basics with Lynx