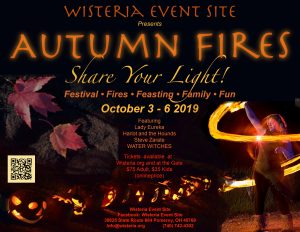 Thursday October 3rd
2:30pm – 3:30pm: Flame Dancing and Safety Training – Bess Kohr @ Heart Hearth
3:00pm: Ancestor Altar Lighting – Charlene Suggs @ Village Green
4:30pm: Lady Eureka (Annie Wolfe) @ Green Man
6:00pm – 7:30pm: Dinner – Hestia's Hearth @ Pavilion
7:30pm – 9:00pm: Brewing with the Blacksmith – Blacksmith O'Kelly @ Pavilion
7:30pm: Ancestor Altar Lighting – Charlene Suggs @ Village Green
8:00pm: Haus of Gypsy @ Green Man
9:00pm – 10:00pm: Open Spin – Bess Kohr @ Spin Zone
9:30pm: Share Your Light: Paw Paw Opening @ Paw Paw
10:00pm: Drum, Dance, and Fire @ Paw Paw
Friday October 4th
8:30am – 10:00am: Breakfast – Hestia's Hearth @ Pavilion
10:00am – 11:00am: Morning Yoga: Stretch Tall With the Trees – Robyn Bragg @ Hickory Grove
10:00am – 11:30am: Bone Dance: A Celebration of Life! – Gloria Mahin @ Green Man
10:00am – 2:30pm: Intro to Blacksmithing – Blacksmith O'Kelly @ Infinity Forge
10:00am – 5:00pm: Kids' Programming – Jennifer Capone @ Kids Village
10:00am – 11:30am: Gift and Goods Bake Sale – Jennifer Capone @ Kids Village
11:00am – 6:00pm: Clay Making – Jessica Fritz-Miller @ Main Stage
Noon: Sweatlodge Orientation – Doug Sundling @ Sweatlodge
Noon – 1:30pm: Lunch – Hestia's Hearth @ Pavilion
12:30pm: Live Action Role Play – Aaron Zimmerman @ Kids Village
1:00pm – 2:30pm: Guided Painting – Kim Keffer @ Hickory Grove
1:00pm – 2:30pm: Votive Candle Holders – Jessica Fritz-Miller @ Main Stage
2:00pm: Stone Soup Ingredient Collection – Fire Mama @ First Aid
2:00pm – 4:00pm: Costumes and Makeup – Rylee Ja Gypsy @ Kids Village
2:30pm – 3:30pm: Flame Dancing and Safety Training – Bess Kohr @ Heart Hearth
2:30pm – 4:00pm: Our Sacred Woods – Elf @ Hickory Grove
4:00pm – 5:00pm: Trick or Treat – Jennifer Capone @ Kids Village
4:30pm: Steve Zarate @ Green Man
5:00pm – 6:00pm: Petite Paw Paw @ Paw Paw
6:00pm – 7:30pm: Dinner – Hestia's Hearth @ Pavilion
6:00pm – 7:30pm: Stone Soup and Story – Fire Mama @ Heart Hearth
7:30pm – 8:30pm: Open Spin – Bess Kohr @ Spin Zone
7:30pm – 9:00pm: Women's Circle – Jen Capone @ Spirit Circle
7:30pm – 9:00pm: Men's Circle – Aaron Zimmerman @ Hickory Grove
8:30pm: Water Witches @ Green Man
9:30pm: Captain Pat and Lara Wallace @ Stone Circle Candle Road
9:30pm: Light Up the Night @ Stone Circle Candle Road
10:00pm – Noon: Fairy Ball – Angela Riffle @ Fairy Shrine
11:30pm: Drum, Dance, and Fire @ Paw Paw
Saturday October 5th
8:30am – 10:00am: Breakfast – Hestia's Hearth @ Pavilion
10:00am – 11:00am: Morning Yoga: Stretch Tall With the Trees – Robyn Bragg @ Hickory Grove
10:00am – 11:30am: Dancing your Colors – Tadashi Kato @ Green Man
10:00am – 2:30pm: Candle Making – Shala Hill @ Main Stage
10:00am – 2:30pm: Intro to Blacksmithing – Blacksmith O'Kelly @ Infinity Forge
10:00am: Clay Firing – Jessica Fritz-Miller @ Village Green
10:00am – 6:00pm: Open Crafting @ Main Stage
10:00am – 5:00pm: Kids' Programming – Jennifer Capone @ Kids Village
10:00am – 11:30am: Gift and Goods Bake Sale – Jennifer Capone @ Kids Village
11:00am – 6:00pm: Photo Booth – Kay and kenne @ Town Center
Noon: Sweatlodge Orientation – Doug Sundling @ Sweatlodge
Noon – 1:30pm: Lunch – Hestia's Hearth @ Pavilion
12:30pm: Live Action Role Play – Aaron Zimmerman @ Kids Village
1:00pm – 2:30pm: Caring for the Dead: Last Rights and Rites – Charlene Suggs @ Hickory Grove
2:30pm – 3:30pm: Flame Dancing and Safety Training – Bess Kohr @ Heart Hearth
2:30pm – 4:00pm: Autumnal Herbal Remedies – Ellie Mae Mitchell @ Green Man
4:30pm: Harlot and the Hounds @ Green Man
6:30pm – 7:00pm: Dinner – Hestia's Hearth @ Pavilion
7:30pm – 9:00pm: Carry the Fire: A Hero's Journey – Wyrrd @ Heart Hearth (meet) to Spirit Circle
9:00pm – 10:00pm: Open Spin – Bess Kohr @ Spin Zone
10:00pm: Drum, Dance, and Fire @ Paw Paw
Sunday October 6th
8:30am – 10:00am: Breakfast – Hestia's Hearth @ Pavilion
Performances
Lady Eureka (Annie Wolfe) – Thu 4:30p @ Green Man
Annie is not just a songwriter, but a poet and a storyteller lurks amid the sounds and silences of her unconventional, poignant, and frequently zany tunes. For almost a decade Annie has been writing passionately and enthusiastically, refining her song-writing craft, while incorporating stimuli across various genres from pop to classical to bluegrass to rock and hip-hop. Her music incorporates influences from artists such as PJ Harvey, Björk, and St. Vincent, while still retaining her own distinctive sound supported by some incredibly original and enigmatic characters.
Drag Show with Haus of Gypsy – Thu 8:00p @ Green Man
The Haus of Gypsy would like to invite everyone to join us in our annual Autumn Fires Drag show! It will be held from 8pm-9pm at the Greenman Tavern. Come join us as we tell our story's through the art of dance, makeup, and costumes!
Steve Zarate – Fri 4:30p @ Green Man
Singer-songwriter Steve Zarate writes uplifting songs full of medicinal properties. Performing his vast repertoire professionally at many regional events and venues since 2006, Steve is known as an engaging entertainer. Raised in Columbus and self-taught on guitar and harmonica, Steve earned three Ohio University degrees from 1978 to 1991. He produced his debut CD, "Homecoming," in 1995 while living in Juneau, Alaska. Since returning to Athens, Ohio in 1997 he's released five more CDs, including 2019's "Patchwork Of Light."
Water Witches – Fri 8:30p @ Green Man
Water Witches are a rock and roll curiosity. Their blend of mystically charged folk and gritty psychedelic rock has an unusual way of engaging audiences. Formed in 2015 after years of working together in various projects, Water Witches comprises long-time friends Ethan Bartman (guitar, lead vocals), Charlie Touvell (drums, vocals), and Matt Clouston (bass, vocals), though the trio can often host a wide array of fellow musicians and performers. Sets including organists, guitarists, violinists, and even an irreverent rock-and-roll-reverend add a rich and uncommonly genuine sense of communal expression and musical exploration.
Captain Pat and Lara Wallace – Fri 9:30p @ Stone Circle Candle Road
While darkness wraps itself around our land, the beauty of the night is revealed by the candle road guiding you to the realm of the autumn crone. Go slowly, and silently in hand with the ancestors and your spirit guides. The altars of the four directions await your arrival. What are your dreams? What gifts or burdens do you leave behind for the darkness and the morning light. Harp and Cello call to you. "Pause a moment, children. Time is fleeting and soon the winter winds will chill our bones. Accept whatever sorrow you may carry this night and be assured that spring too will come to us again." A candle path, a place of meditation, prayer and solace.
Harlot and the Hounds – Sat 4:30p @ Green Man
Who are Harlot & the Hounds? An original Cincinnati based band, that plays unique music with all the soul to back it up. Harlot includes two leading ladies who drive the music with beautiful harmonies and a combination of guitar and banjo. Then there are The Hounds. Their percussion section includes two djembe and a washboard with an attached array of tin cans. To top it all off, simply add trumpet and flute… and why not? To describe the sound may prove difficult. Simply stated, It is well crafted music. For a taste of their sound go to https://soundcloud.com/harlotandthehounds
Rituals and Ceremonies
Ancestor Altar Lighting – Charlene Suggs. Thu 3:00p (setup), Thu 7:30p (lighting) @ Village Green
You are invited to the opening lighting the Ancestor Altar at the beginning evening of Autumn Fires. This decorated space to honor our ancestors is a tradition at Wisteria's Autumn Fires. This time of the year as the light fades, we naturally turn to thoughts of those who have gone before us. Feel free to bring mementos of loved ones to place on this altar for the weekend at this opening. Bring a photo or object, Light a candle, write a tribute or tie a prayer to the web for our beloved ancestors. If you don't make it to the ceremonial opening, feel free to visit throughout the weekend. Wisteria also has a permanent Ancestor Mound located near the Stone Circle in the Sacred Sites area. That space will be decorated and available for visits throughout the weekend as well.
Share Your Light: Paw Paw Opening – . Thu 9:30p @ Paw Paw
We begin our journey by opening Paw Paw as a community. Everyone who wishes to participate, gather at Paw Paw at 9:30. Wooden sparklers will be handed out to participants. At 10pm, we'll ignite the Paw Paw fire together
Men's Circle – Aaron Zimmerman. Fri 7:30p-9:00p @ Hickory Grove
This is a circle of men, all brothers at heart, where all will listen, not just to your words, but the emotions and honesty beneath. In this harvest season, we can gather to share the triumphs and hardships faced throughout the year. In the circle we can reflect on how we have measured to our goals, set back when the weather first warmed in the spring.
Women's Circle – Jen Capone. Fri 7:30p-9:00p @ Spirit Circle
Let us come together to celebrate the darkness that comes with the turning of the Wheel. This is the time to look back at your year with gratitude and begin to slow our pace and relax in preparation for the year ahead. We will create a way to hear the voice of the Great Mother, to shift our gaze inward to heal our emotional and spiritual selves and to still feel connected to each other. When we truly appreciate the wild wisdom of darkness as much as we do the light, we honor the cycle of waxing and waning and our innate Sacred Feminine.
Carry the Fire: A Hero's Journey – Wyrrd. Sat 7:30p-9:00p @ Heart Hearth (meet) to Spirit Circle (Meet at Heart Hearth. Wear good shoes as you will be walking to Spirit Circle. Limited transportation may be available for the mobility impaired.)
The problem with building up heroes is that they cast longer shadows, allowing injustice a place to hide in the darkness. But the arc of the moral universe bends towards Justice and the light. In this Autumn Fires ritual, we will walk the path of the Hero, explore what rests in the darkness of their shadows, and return from that journey emboldened with the light of community.
Activities and Workshops
Kids Programming listed separately, below
Autumnal Herbal Remedies – Ellie Mae Mitchell. Sat 2:30p-4:00p @ Green Man
In Autumnal Herbal Remedies, we will be making 2 medicinal recipes to boost your immune system and ease common winter ailments. Elderberry syrup and a decongestant salve. This is a beginners class, all ages welcome, and all ingredients will be provided.
Bone Dance: A Celebration of Life! – Gloria Mahin. Fri 10:00a-11:30a @ Green Man
Ever wondered what it would be like to dance with death? Through creative visualization and comedic movement, we will celebrate the temporary nature of life and discover the cosmic joke of existence.
Brewing with the Blacksmith – Blacksmith O'Kelly. Thu 7:30p-9:00p @ Pavilion
Blacksmith will be demonstrating how to make indigenous beers using various substitutes for hops. This will involve a demonstration of sanitation practices, brewing, bottling, and of course, sampling!
Candle Making – Shala Hill. Sat 10:00a-2:30p @ Main Stage ($10 materials fee)
A drop-in workshop where participants can create custom candles using a variety of techniques. These include hand-dipped taper candles, sand-mold candles, and candles molded with repurposed materials. All materials are provided.
Caring for the Dead: Last Rights and Rites – Charlene Suggs. Sat 1:00p-2:30p @ Hickory Grove
Caring for Our Dead: Rights and Rites. As the community ages, many seek a holistic body of practices that reflect Earth-based spirituality instead of expensive and impersonal observances. Join us as we undertake a frank and lively discussion on death, natural processes and current death care practices. We can empower ourselves in caring for our dead (and our finances!) by educating ourselves on legal/consumer rights and the workings of the funeral industry. We will learn how our death choices affect the earth and share some emerging memorial concepts including natural burial and death midwifery.
Clay Firing – Jessica Fritz-Miller. Sat 10:00a @ Village Green
Clay will be fired all day at the pit kiln. Finished clay items will be available noon-ish on Sunday at Main Stage
Clay Making – Jessica Fritz-Miller. Fri 11:00a-6:00p @ Main Stage (All ages welcome)
Make something out of clay! Clay, tools, and glazes will be provided. The clay objects will dry overnight and go into the pit kiln on Saturday.
Dancing your Colors – Tadashi Kato. Sat 10:00a-11:30a @ Green Man
Tadashi Kato cordially invites you to an evening of Dance Therapy workshop designed to assist you in your journey through self-discovery. Tadashi is a Certified Evans Method Modern Dance Instructor, and holds MA in Exercise Physiology (Tokyo University) and Ph.D. in Clinical Psychology (Ohio University). In this workshop, participants will learn the basic movement vocabularies of Color Eurythmy that were developed by Rudolf Steiner who is known for establishing the Waldorf School System based on his Anthroposophy movement in early 20th century. Color Eurythmy was intended to translate the vibration of colors into dance movements. After exploring and learning the basic movement vocabularies, participants will be invited to a guided imagery through which they will become in touch with the core colors in their unconsciousness. This imagery exercise will be followed by abstract paintings that correspond to the contents of their contemplation. The participants will subsequently be invited to share their movements that correspond to the colors that appear in their self-reflective paintings. The workshop will culminated into the climax of the improvisation sequence of 5-rhythms-inspired movements (flow, staccato, chaos, lyricism, and stillness) as corresponding each element to the colors. Please come in movable clothing with a bottle of water and open-mind.
Drum, Dance, and Fire – . Thu 10:00p, Fri 11:30p, Sat 10:00p @ Paw Paw
Come play, come dance, or just come and be present. Please see the drum circle etiquette section of the program if you are new to fire drum circles. Start times are approximate, listen for the drums!
Fairy Ball – Angela Riffle. Fri 10:00p-12:00a @ Fairy Shrine
Our annual Fairy Ball! We've improved the road to the Fairy Shrine so it's easily passable, but make sure to wear good shoes.
Flame Dancing and Safety Training – Bess Kohr. Thu 2:30p-3:30p, Fri 2:30p-3:30p, Sat 2:30p-3:30p @ Heart Hearth
A daily workshop for those who are interested in learning more about the divine art of fire spinning. During the day we will be practicing with our flow props (there will be some provided but first come first serve) and learning the proper etiquette and safety of dancing with the flame. I will discuss and prepare you for what to expect when you reach the point of comfortablility and practice to light up. At dusk we will have an open flow space to burn, please be on time and sober so that we can all enjoy ourselves and the communal experience of fire spinning.
Guided Painting – Kim Keffer. Fri 1:00p-2:30p @ Hickory Grove ($3 materials fee)
Participants will be guided in completing their own painting. Kim will share many different techniques and will speak about silencing the censor and freeing that creative part of yourself! Kim desires to inspire! No painting experience neccessary
Intro to Blacksmithing – Blacksmith O'Kelly. Fri 10:00a-2:30p, Sat 10:00a-2:30p @ Infinity Forge
Participants will be offered the opportunity to forge an athame' or bolline from a railroad spike, or make tiki-torch holders and gardening tools, or suggest their own projects. These sessions will be held for approx. 2 1/2 hrs daily. Available for all ages (under 18 requires written parental permission). Registration signup for all classes starts on the 1st day of the festival. Shoes that cover feet fully/long pants/ shirt required. Safety glasses provided and required during forging. Forging is free, but a material fee of $5 to $30 (depending on the craft) will be charged if you wish to keep the finished product. Sign up in advance is required and class space is limited.
Light Up the Night – . Fri 9:30p @ Stone Circle Candle Road
Light up the Night: Wisteria's pilgrim trail, Illuminated Including: Shrine Valley, Hellenic Shrine, Monument to a Fallen Giant, Apecheta, Harriet Tubman Memorial, Spirit Circle, Turtle Mound, Nemeton, Ancestor Mound, Stone Circle, Long Road into the Darkness, Crystal Tree, Labyrinth of the Ways, and Fairy Shrine
Morning Yoga: Stretch Tall With the Trees – Robyn Bragg. Fri 10:00a-11:00a, Sat 10:00a-11:00a @ Hickory Grove (ages 16+, please bring mat/towel if possible)
Wake up your body with gentle movements and stretching. Synchronize your breath and your body while your mind becomes calm and in tune with the beautiful nature here at camp. Ages 16+. All fitness and experience levels welcome. Please bring a mat or towel if possible.
Open Crafting – . Sat 10:00a-6:00p @ Main Stage
Bring your ideas, your creativity, and your art supplies to share. Some supplies may be available.
Open Spin – Bess Kohr. Thu 9:00p-10:00p, Fri 7:30p-8:30p, Sat 9:00p-10:00p @ Spin Zone
Bring your fire toys and come play! You MUST attend a safety workshop, have your equipment checked, and have a safety/spotter with damp towel before being permitted to spin fire. Spin Zone will be near Green Man on Thu/Fri and near Paw Paw on Sat.
Our Sacred Woods – Elf. Fri 2:30p-4:00p @ Hickory Grove
This workshop is will give you an opportunity to learn about the magic and wisdom in our native trees. Different woods have been selected for different purposes by the wise folk all over the world. Maybe you have heard of "The Nine woods charm for the bale fire" or the stang carried by a man in black. The Ash as the World Tree or a " witches ladder.." Now you can learn what these things are and how you can select the best wood for your needs and include this ancient wisdom to enrich your own spiritual practice. \\ There is no material fee for the workshop but spell kit bundles will be available to purchase
Photo Booth – Kay and kenne. Sat 11:00a-6:00p @ Town Center
Come strike a pose in the photo booth, open Saturday all day! Solo or group shots taken by local photographers. Photos will be emailed out after the event. Donations gratefully accepted.
Stone Soup Ingredient Collection – Fire Mama. Fri 2:00p @ First Aid
Bring your ingredients to First Aid at 2pm Friday, and Fire Mama will work her magic (organic, local, and home grown or raised especially welcome).
Sweatlodge Orientation – Doug Sundling. Fri 12:00p, Sat 12:00p @ Sweatlodge
Orientation for evening sweat, time to be set during orientation. See the Sweatlodges section of the program for further details
Votive Candle Holders – Jessica Fritz-Miller. Fri 1:00p-2:30p @ Main Stage
Make a perforated votive candle holder. Materials will be provided.
Kids Activities
Costumes and Makeup – Rylee Ja Gypsy. Fri 2:00p-4:00p @ Kids Village
Adults and kids alike, we should all look fabulous!
Gift and Goods Bake Sale – Jennifer Capone. Fri 10:00a-11:30a, Sat 10:00a-11:30a @ Kids Village
Kids Village will be hosting our yearly bake sale to raise funding for our kid and family events here at Wisteria. Friday and Saturday morning. Sale proceeds go to keeping our children safe with equipment and basic needs, arts and crafts, workshops and big events. Our big goal right now is to raise funding for new picnic tables and semi-permanent shelter in Kids Village and a 10'x20' shelter for the tween center. All donations are welcome and appreciated. Stop by to drop off a donation, try a sample and take home a delicious treat.
Kids' Programming – Jennifer Capone. Fri 10:00a-5:00p, Sat 10:00a-5:00p @ Kids Village
Check the board in front of Kids Village daily for crafting activities! In addition to the kid-friendly general activities like pumpkin carving and clay making, we will also have soap felting, monster craft, and more! If time permits, we'll have a mini pumpkin treasure hunt throughout the campground (in Kids' Village for little ones).
Live Action Role Play – Aaron Zimmerman. Fri 12:30p, Sat 12:30p @ Kids Village (No age limit, must be able to walk and talk (adults welcome))
LARP (Live Action Role Play). No age limit; must be able to walk and talk. A two part quest to save the Pumpkin King. Several NPC roles needed; please contact Aaron Zimmerman.
Petite Paw Paw – . Fri 5:00p-6:00p @ Paw Paw
Paw Paw can be challening for kids, since it typically starts late and can sometimes be a chaotic environment. For the past several years we have been running a Petite Paw Paw drum and dance circle during daylight hours so the kids can play and dance along too! Drummers will be ready and playing. A great way to burn off all that halloween candy!
Trick or Treat – Jennifer Capone. Fri 4:00p-5:00p @ Kids Village
We'll start at Kids' Village and Trick or Treat throughout the campground
About the Presenters
Aaron Zimmerman
Aaron is a teacher and student alike. A devout pluralist, he is part physicist, part philosopher, and the rest something new. Aaron's life goal is to be a true Jack-of-All-Trades, but is most interested in educational programming for children.
Bess Kohr
Bess Kohr is hellbent on the journey of multi-faceted healing. Her self exploration of spirituality has led her to a multitude of paths of meditation. Among many things, she has been an avid student of Gaia in herbal medicine, has delved into the art of reiki, is practiced in light and dark goddess work, and practicing active meditation in the form of fire dance. She is passionate about music and dance.
Blacksmith O'Kelly
Demonstrating Artist Blacksmith O'Kelly has been fabricating and welding metal crafts using modern methods since 1993. He has been demonstrating traditional coal-forge blacksmithing at Renaissance Fairs since 2004. Wisteria Solstice 2007 was his first Earth-based festival and he looks forward to returning many times in the future. His interest in blacksmithing has evolved into an effort to pass knowledge of the craft on to others in order that the art does not die. He attends the Unitarian Church in Huntington, West Virginia with his children Sierra, Dan, and Valyria (and nieces Cassy and Sammy). One of his goals is to learn more about his Celtic origins, particularly Celtic forging techniques.
Captain Pat and Lara Wallace
Captain Pat the aged labyrinth builder and harper dreams of Valhalla and hopes to share his gifts with our tribe. Lara Wallace is a kickass celloist, who plays occasionally with the band "Mozaique," or with anyone who happens to have dark chocolate available.
Charlene Suggs
Charlene Suggs has devoted much of the last forty years envisioning and creating ways for people to share land, life, and vision. As a community organizer, self-educated researcher and grassroots activist for over 30 years, Charlene has devoted much of her life manifesting creative and just ways for people to share land, life and vision. Charlene is particularly interested in nature, insects, art/music, humor and the general details of life.
Doug Sundling
Doug Sundling has been involved with sweatlodges since 1986. Since 1997, he has constructed and maintained a sweatlodge site at Wisteria. While he has facilitated sweatlodge ceremonies at various other festivals, he currently has focused on facilitating sweatlodges for events held at Wisteria.
Elf
I am known as Elf … The little ol lady that talks to the trees, I have been attending events and offering workshops at Wisteria For many years, With each workshop I have the same hope …. that some little bit of wisdom I have managed to acquire will bring the attending the tools and opportunity to expand their own spiritual life
Ellie Mae Mitchell
Ellie Mae Mitchell is the herbalist of Cincinnati based Caravan Gardens Apothecary, host of The 5 Minute Nature Show on RadioArtifact, a musician, womb sovereignty advocate & abortion doula. For the last 5 years, she has been teaching herbalism and foraging classes around the Midwest. Focusing on sustainability, Ellie Mae seeks to teach others the skills to nurture themselves and the earth.
Gloria Mahin
Gloria Mahin, LPC, REAT, is an expressive arts therapist in West Virginia. She facilitates movement as an invitation for all of us to become more embodied and connected with nature. Visit her website at www.expressivetherapist.com.
Jennifer Capone
I am a mother and homeschooler to a wonderful daughter, a self-taught artist, and fiber artist. I encourage art and creativity wherever I can. I believe children flourish with love, guidance, and play. I am certified as both girls and teen mentor, certified in NVC (Nonviolent communication),taken workshops on art therapy for children and young adults and active with Girl Scouts of Eastern PA. It is my hope to bring all that I have learned to the youth of our community, here at Wisteria. I am currently hosting and supporting Red Tent events, women's circles, and workshops in PA and southern New Jersey. I am active in women's gatherings and retreats and working with some amazing women. I am learning new ways to support, uplift, heal and renew the feminine spirit. I look forward to sharing space with the women of Wisteria.
Kay and kenne
(details pending)
Kim Keffer
Kim is a visionary artist, a photographer and painter. Kim is on a mission to use her art and her experiences to bring light and healing to all. Her incredibly detailed paintings are inspired by her connection to Mother Nature. Currently Kim travels the country creating and sharing her art. She also loves conducting Guided Painting workshops and facilitates a creative recovery group called Creative Companions. It is Kim's belief that we are all creative beings, that creativity heals and it is her mission to inspire others to free their creative selves.
Robin Bragg
Robyn loves to share her passion for yoga and meditation to get people moving, feeling better, and into the present moment. She's been practicing yoga for nine years and teaching for three in the Columbus area.
Rylee Ja Gypsy
Rylee Ja Gypsy is a native of West Virginia. At 27 years old Rylee spends her time traveling and bringing her drag troupe "The Haus of Gypsy" to perform shows that showcase love , acceptance, creativity, ad inclusion through the art of drag. She is a co-host of the monthly drag shows held at Athens Uncorked in Athens , Oh. Rylee is a advocate for lgbtq+rights and works closely with her community to help bring awareness and change for many of the issues we face today. .
Shala Hill
An Athens local, "Jill of all trades" who has studied everything from edible wild plants and mushroom to shamanism and mental health counseling.
Tadashi Kato
Tadashi Kato is native of Japan and holds a Ph.D. in Clinical Psychology (Ohio University), a MA in Kinesiology/Exercise Science (Tokyo University), a BA in Aesthetics (Tokyo University), and is a Certified Evans Method Dance Instructor. Along with his work in various clinical settings, including Southeastern Psychiatric Hospital (Athens, OH), University of North Carolina at Charlotte Counseling Center, State University of New York at Binghamton Counseling Center, he had also taught multiple Dance Therapy Workshops at Brushwood Folklife Center (NY), Wisteria Summer Solstice Festivals (OH), and at Serpent Mound Spring Equinox Festivals (OH). As a dancer and a choreographer, he studied Japanese Butoh Dance with Yoshito Ohno and various other Butoh masters, Sword Dance with Kensei Namiki, and American Modern Dance with Angela Dennis and Bill Evans. He was a Resident Artist at Center for Remembering and Sharing (Manhattan, 2016), at Cave (Brooklyn, 2016), and at Bronx Academy of Arts and Dance (Bronx, 2012), and was a commissioned choreographer for Lower Manhattan Asian Dance Festival (2012), and at Pittsburgh First Night (2009-2017). His recent dance work includes his new line of Performance Art titled