Here is a list of performers and presenters for the 2016 season!
Patrick McCollum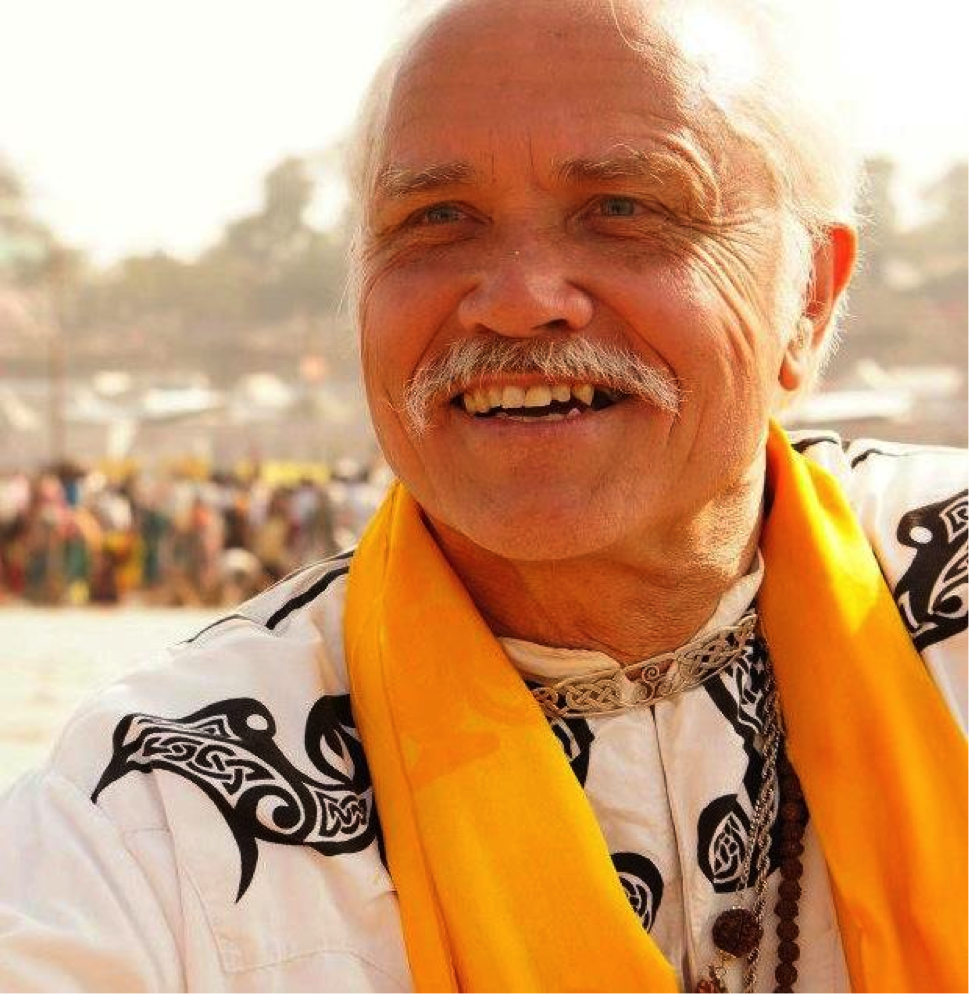 H.E. Reverend Patrick McCollum is an internationally recognized spiritual leader whose work toward human rights, social justice, and equality for all religions and spiritual traditions transcends cultural, religious and political barriers. Reverend McCollum received the Mahatma Gandhi Award in 2010 and Thai Buddhists named him as a World Inner Peace Ambassador. Reverend McCollum served as an advisor for the United States Commission on Civil Rights on religious accommodation issues.  He currently serves as Vice President for the United Nations Non-Governmental Organization, Children of the Earth.
Reverend McCollum founded The Patrick McCollum Foundation a non-profit organization promoting a sacred planetary vision that respects religious diversity and advances progress toward equality, human rights, equality for women, and world peace. In 2012, he performed an opening blessing for 100 million attendees at the world's largest spiritual gathering, the Maha Kumbh Mela in Allahabad India. H.E. Reverend McCollum speaks worldwide on creating a new narrative for all humanity, one that everyone can live by, and was recognized as a saint in India and other countries in 2012.
The World Peace Violin, an instrument of interfaith and world peace acknowledged by the United Nations as an official symbol of world peace, was created by Reverend McCollum. As part of the 70th anniversary of the United Nations on the International Day of Peace, Dr. Jane Goodall and cellist Yo-Yo Ma blessed the violin as UN Messengers of Peace.  The World Peace Violin continues to travel the world being blessed by many of the world's spiritual and political leaders and concerned citizens of many nations.  The World Peace Violin opened the World Summit of Nobel Peace Laureates in 2014 in Atlanta, Georgia. The Violin will be present at Wisteria Summer Solstice for our 20th anniversary theme "Creating Peace."
Website: www.patrickmccollum.org
Scarlet Rivera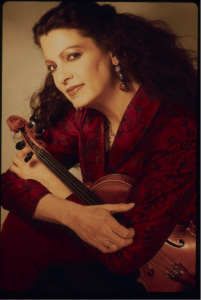 One of the world's most prominent, active and versatile violinists, Scarlet Rivera is known for her contributions to the recordings and performances of some of the most influential artists of our time including Bob Dylan, Indigo Girls, Tracy Chapman, Duke Wellington Orchestra and others.   Her professional era sparked when Bob Dylan pulled up in a car to talk to her as she walked down a street with her violin case in Greenwich Village in the mid-1970s. She was a featured musician on the Rolling Thunder Revue concert tour (1975) and recorded violin tracks on some of Bob Dylan's albums. 
Scarlet's solo works expose the artistry of her singular creative genius as one of today's most intelligent and passionate violinists. She is also a passionate animal rights activist and has an upcoming book named "Voice of the Animals." Here's a recording of Scarlet Rivera playing a song written for the World Peace Violin named Voice of Peace — an innovative artistic collaboration between multi award-winning composer Yuval Ron, multi award-winning violinist Scarlet Rivera, and world-renowned spiritual leader Rev. Patrick McCollum.
http://www.angellesmusic.com/scarletrivera/biography.htm
Kirk White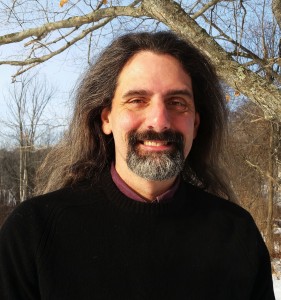 Kirk White, M.A., L.Ac., is a healer, teacher, and author. He has been a practicing Witch and Magician since 1973, a psychotherapist for 20 years, and a licensed oriental medical practitioner since 1994. A past president of Covenant of the Goddess (North America's oldest and largest association of Witches and Wiccans), and past director of the University of Vermont's Parapsychology Program, he also founded Cherry Hill Seminary, a professional Pagan ministry program with faculty and students worldwide, and Standing Stone Academy, a Pagan healer training program.
In 2006, Wildhunt.org named him one of the "25 most influential modern living Pagans today." In addition to working as a consultant with Pagan seminaries nationwide such as the Aquarian Tabernacle Churches' Woolston Steen Theological Seminary, he is a licensed acupuncturist/ Chinese herbalist, registered psychotherapist, legal Pagan minister, Freemason, and adept in the Hermetic Order of the Golden Dawn. His skills and interests include traditional healing modalities, various magickal and spiritual traditions, and models of Pagan leadership and ministry. He is author of several books.
Website: www.revkirkwhite.com
Wikipedia page: en.wikipedia.org/wiki/Kirk_White
Dragon Ritual Drummers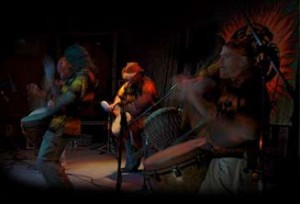 An award-winning, critically-acclaimed  drum troupe with a worldwide following, the Dragon Ritual Drummers are the #1 Pagan Drum Troupe on the planet! The Dragon Ritual Drummers offer a unique array of rhythms, music inspired from around the world and through the ages, focusing on the drums' place in mysteries that call forth spirits, ancestors, and deities. As honorary drum guard for the New Orleans Voodoo Spiritual Temple, their concerts often showcase rhythmic stories and celebrate tales of Creole voodoo gods and spirits of the swamps.
The Dragon Ritual Drummers are thrilled to be returning to Wisteria and the Summer Solstice gathering for the first time in years . In addition to playing the mainstage, they will be offering an interactive workshop/ceremony to honor the legacy of Harriet "Mama Moses" Tubman and the spirits of the Underground Railroad .
Website: www.dragonritualdrummers.com
Facebook: https://www.facebook.com/Dragon-Ritual-Drummers-18136761075/?fref=ts
iTunes: https://itunes.apple.com/us/artist/dragon-ritual-drummers/id296903642
Kellianna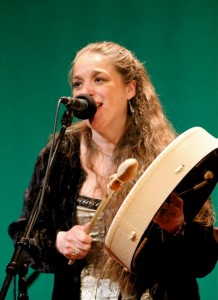 Kellianna is an American pagan singer and songwriter internationally renowned for her powerful performance of song and chant inspired by myth, magic, sacred places, and ancient times. With guitar and vocals, she brings to life the stories and sagas of the Gods and Goddesses. With primal frame drumming and soaring vocal chants, she honors the Earth and the Ancestors. Since 2003, Kellianna has performed her music in 9 countries on 3 continents, with regular visits to Canada, the United Kingdom, Western Europe, and Australia.
In 2014, Kelllianna began developing a book trilogy, the Warrior Queen Chronicles, inspired by the song "Warrior Queen" from her 2004 debut album, Lady Moon. While the song tells of a mighty queen who dies on the battlefield, the trilogy of novels narrates the events of her life leading up to the battle. Helping Kellianna in the process of creation is Australian author Kaalii Cargill. After meeting Cargill in Sydney in October 2013, and again in the United Kingdom in 2014 when  she picked up the author's latest book, "Daughters of Time," Kellianna knew that she had found the perfect person to help her bring her vision of the Warrior Queen's story to life.
Book One of the Warrior Queen Chronicles, "Tapestry of Dark and Light," was released by Sappho Books in March  of 2016 .
Hellnaw
Hellnaw is a two-man rhythm section (bass guitar and drums) that sounds like Les Claypool and John Bonham throwing a temper tantrum in unison. Stationed in Athens, Ohio, Josh Wicker and Wren Fenton combine technical chemistry, improvisation, gritty licks, and filthy grooves to create a powerhouse of sound. Eclectic Grit-Funk at its best!
Suzi Brown
The musical journey of Suzi Brown, singer/songwriter, has taken her everywhere from coffee shops, wineries, and theaters to collaborative work with producer Pier Giacalone (Regina Spektor and Sloan Wainwright); drummer Rodney Holmes (Carlos Santana and Steve Kimock); and keyboardist Arne Wendt (Bon Jovi). Among other ventures, Suzi has scored an opening act slot for Sixpence None the Richer and has co-billing Wild Goose Festival in 2013 with the Indigo Girls.
Suzi's music fuses various cultural styles, including Celtic, Asian, Island, jazz, and even tribal beats with traditional folk/pop. Her guitar playing incorporates percussive techniques, as well as advanced 2-hand tapping, and her voice has been called "ethereal and enchanting." Most importantly, it is distinctly her own, just like her writing.
Website: http://www.suzibrown.net
Email: suzi.brown.booking@gmail.com
Joe Smith – Smilin' Joe
Born in the Ohio Valley, Smilin' Joe has been writing songs about subjects that strike a chord with his audience for decades. Sometimes heartfelt and oftentimes hilarious, his original, storytelling songs hit home with listeners in a big way.
Over the years, Joe has shared the stage with everyone from local songwriters to national acts, and his original songs have been covered by bands across the United States and beyond. Bands such as Little Feat, David Nelson Band, Leftover Salmon, Great American Taxi, The Recipe, and others enjoy playing Joe's songs to their fans.
The music is infectious, the fun is contagious – and so is the smile .
Shane Thomas Safko        
Shane Thomas Safko, performer , is excited to be back at Wisteria, where he will entertain the crowd with his unique voice and acoustic stylings on the guitar. From pop songs and blues to mellow instrumentals, Shane offers listeners a relaxing, enjoyable concert. It's a finger-pickin' good time !
Amethystone is piano driven fantasy rock- a unique rock-pop fusion, featuring the soulful melodies and powerful voice of Megan Cameron. It is music to lift your spirits, move you to dance, and inspire you to connect with the earth, and each other. Songs include Faery Song which invites listeners to reconnect with magic and their inner child and The Alchemist which reminds us that we have an active role in creating gold in our lives. Each member brings a unique sound to create a pop-rock fusion that is refreshingly honest, exciting, and danceable. Amethystone creates an edgy sound and angelic vocals comparable to Evanesence.
Their music has been compared to Joni Mitchell, Tori Amos, and Cold Play and draws inspiration from Dead Can Dance, Sarah McClachlan, U2 and many others.
Since Amethystone's formation in 2007 they have performed at numerous festivals including the Columbus Arts Festival and River Fest in Columbus Ohio, Summer Solstice Festival and Autumn Fires at Wisteria, the Chillicothe Earth Gathering and the Ohio Pawpaw Festival, OSU and OU Take Back the Night events.
Ginger Ackley
Ginger Ackley, a Texas native now happily transplanted to Ohio, has taken her life-long passion for music and combined it with a love of history and tradition, and melded into a delightful style of Celtic Folk. Following the Celtic way, she always does her best to tell the story in the music!
Performing both traditional and original songs, she sings while accompanying herself on one of her autoharps. She can often be found joining other artists on her pennywhistles. It is not unusual to her her playing along with Blues or Jazz musicians, given the chance! She regularly performs with Brian Henke and has shared the stage with people like Beltanna Spellsinger and Wendy Rule.
Ginger has been described as a songwriter "in the old style," and audiences are often surprised to find out a song is one of her originals! Her music covers a spectrum from original to traditional, mystical to educational. Ginger also loves to play for younger listeners and will often have them dancing and even parading around with shakers! She is a frequent visiting artist at senior homes and has offered her music to hospice services.
Ginger lives with her husband, Donovan, in North Canton. She is the mother of five children and an almost uncountable number of grands!
Ginger's newest album, "The Elf King's Horn," was produced by Brian Henke is full of fairy songs and stories and three beautiful instrumentals.
William Penn Russell – Azar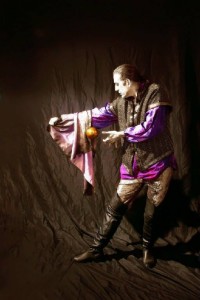 For nearly 40 years, Azar has amazed and delighted adults and children of all ages. Presidents, Kings, and other heads of state have been equally entertained and amazed. Azar specializes in the history of magic and loves to impart fascinating bits of lore to his audiences. A somewhat-rogue Druid, Azar has been on the pagan path since the age of 12 .
The Pirates of the C.U.C. Constantine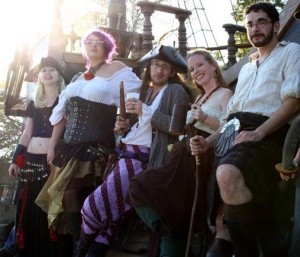 The Pirates of the C.U.C. Constantine is a small collective of independent minds bent on bringing more pirate antics into the world. As a circle of solitary practitioners we celebrate
the individual path to Pagan spirituality and rejoice in the opportunity to share our voyage with our good friends. The Pirates have been veterans of the pagan festival scene for over a
decade. The Pirates are active contributing members of the Wicca community who encourage civic minded acts of volunteerism to promote pagan values and Earth stewardship. As solitary practitioners the Pirates believe the path to spirituality is a deeply
personal one. Operating under the artistic umbrella of the "theater troupe", the pirates bring a unique perspective to live performance, historical commentary, and classic satire.
https://www.facebook.com/pages/Pirates-of-the-CUC-Constantine/713139532043550
DJ  Barticus
"DJ Barticus first started wearing jumpsuits in 2013, but has been steadily climbing to the top of the Athens dance scene for much longer. Beginning with the infamous Dance or Die parties of the early aughts, Barticus has been honing in his party-pumping skills for over a decade. He is a powerhouse of funk, a mover-of-feet, a shaker of hips with an arsenal of vinyl at his command. In 2015 he took his love of disco to the airwaves, and can be heard each Sunday evening on WEAK 106.7, twirling records like they were disco ballerinas. A true DJ through and through, Barticus' love and knowledge of pop-party music is unequaled and highly infectious."