NEW FOR 2021 – WISTERIA MEMBERSHIPS
Wisteria is open to a limited number of campers.
Reservations will be on a first come first serve basis. Campers will need to select a site from those highlighted in the image.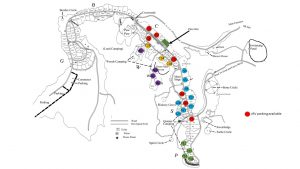 Camping sites are restricted to 5 people of the same family or household unit per state health requirements.
We have been working with officials to institute all state and county protocols in order to ensure a safe experience for everyone.
Because of state guidelines and the limits on camping capacity, no one will be allowed on site that has not preregistered.
To aid in planning your visit to Wisteria, please review the following pages. General Information; Campground Rules; and Additional Information Regarding Site. More information can be found under the Plan Your Visit link in the menu bar.
Wisteria is a special event site and campground, nature preserve, and residential community, nestled in the Appalachian foothills of southern Ohio. Founded in 1997 with a purchase of land including reclaimed mining areas, Wisteria is dedicated to cooperative ownership, sustainability, education, and responsible stewardship of the land.
The special event site and campground is a private, secluded, and beautiful area which hosts Summer Solstice, Autumn Fires, and several other festival events throughout the year. The campground includes many amenities such as a stage, a large covered pavilion with a commercial kitchen and coffee shop, shower house, hiking trails, and natural swimming pond. For private events, Wisteria can customize its services to accommodate everything from a small woodland wedding to large events with 1000+ attendees.
Our nature preserve covers 200 acres. This preserve is dedicated to protecting the diverse species of vegetation and wildlife unique to this area. Wisteria is also a residential community, with families living on the land and in the surrounding areas. Many Wisterian families practice sustainable living, utilizing alternative energy sources such as solar power.
Spend time at Wisteria in 2020! Meet new friends and have new experiences!
The following events have been postponed. In their place we will be having open camping theme weekends.  
2020 Fall Equinox, September 18 – 20, 2020
2020 Autumn Fires, October 8 – 11, 2020