Autumn Fires 2019
October 3-6 – Get tickets online now! Tickets also available at the gate (prices slightly higher); 24 hour day passes available at the gate for $30.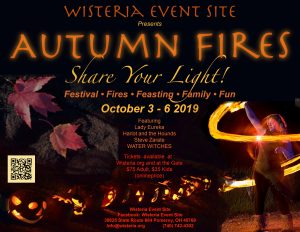 Come join us at Wisteria, nestled in the hills half an hour from Athens, for three days of fun. Autumn Fires celebrates the changing of the seasons with bonfires, local music, feasting, drumming, activities, and ceremonies. Highlights of the event include pumpkin carving, pit kiln clay making, Stone Soup potluck, nightly bonfires at Paw Paw drum and dance fire circle, performances at the Green Man tavern, fire spinning, and more!  This year's focus, "Share Your Light", celebrates the gifts, contributions, and wisdom that everyone, old friend or new, brings to the table.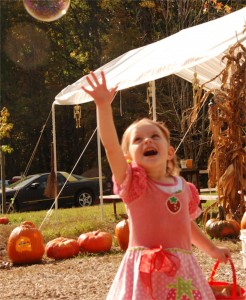 Tickets available online $75 for adult 13+, $35 for kids 3-12. Gate prices are slightly higher, so Register online now and save. Online registration closes the Tuesday night before the event, but you can always pay at the gate (cash or card). Day passes are available at the gate.
Performance Line Up
Lady Eureka (Annie Wolfe), Thursday 4:30pm @ Green Man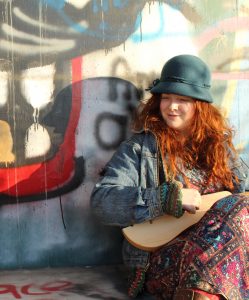 Annie is not just a songwriter, but a poet and a storyteller lurks amid the sounds and silences of her unconventional, poignant, and frequently zany tunes. For almost a decade Annie has been writing passionately and enthusiastically, refining her song-writing craft, while incorporating stimuli across various genres from pop to classical to bluegrass to rock and hip-hop. Her music incorporates influences from artists such as PJ Harvey, Björk, and St. Vincent, while still retaining her own distinctive sound supported by some incredibly original and enigmatic characters.
Drag Show with Rylee, Thursday 8:00pm @ Green Man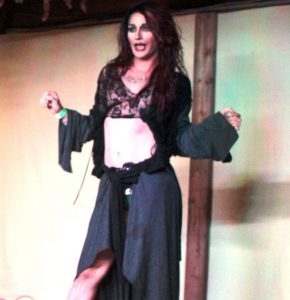 Details of drag show coming soon!
Steve Zarate, Friday 4:30pm (Happy Hour) @ Green Man
Singer-songwriter Steve Zarate writes uplifting songs full of medicinal properties. Performing his vast repertoire professionally at many regional events and venues since 2006, Steve is known as an engaging entertainer. Raised in Columbus and self-taught on guitar and harmonica, Steve earned three Ohio University degrees from 1978 to 1991. He produced his debut CD, "Homecoming," in 1995 while living in Juneau, Alaska. Since returning to Athens, Ohio in 1997 he's released five more CDs, including 2019's "Patchwork Of Light."
Water Witches, Friday 7:30pm @ Green Man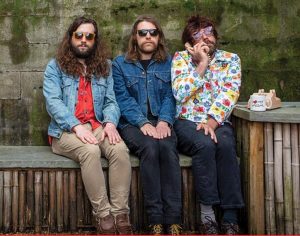 Water Witches are a rock and roll curiosity. Their blend of mystically charged folk and gritty psychedelic rock has an unusual way of engaging audiences. Formed in 2015 after years of working together in various projects, Water Witches comprises long-time friends Ethan Bartman (guitar, lead vocals), Charlie Touvell (drums, vocals), and Matt Clouston (bass, vocals), though the trio can often host a wide array of fellow musicians and performers. Sets including organists, guitarists, violinists, and even an irreverent rock-and-roll-reverend add a rich and uncommonly genuine sense of communal expression and musical exploration.
Patrick McGee, Friday 10:00pm (approx) on meditation path to Stone Circle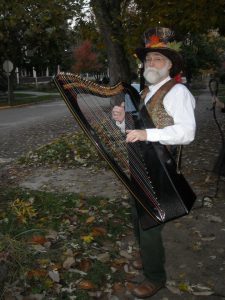 Patrick McGee will be playing and facilitating a candlelit meditation path on the way to Stone Circle as part of the evening's lighting of the shrines and sacred spaces. This will happen around 9-10pm; check for updates on exact time.
Harlot and the Hounds, Saturday 4:30pm @ Green Man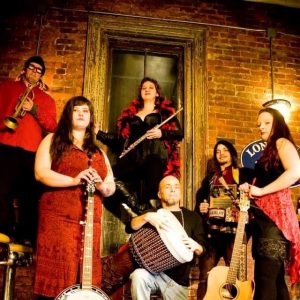 Who are Harlot & the Hounds? An original Cincinnati based band, that plays unique music with all the soul to back it up. Harlot includes two leading ladies who drive the music with beautiful harmonies and a combination of guitar and banjo. Then there are The Hounds. Their percussion section includes two djembe and a washboard with an attached array of tin cans. To top it all off, simply add trumpet and flute… and why not? To describe the sound may prove difficult. Simply stated, It is well crafted music. \\ For a taste of their sound go to https://soundcloud.com/harlotandthehounds
Activities and Workshops
Here are a few of the things we have lined up; schedule coming soon!
Nightly drumming and dancing at Paw Paw Drum and Fire Circle
Fire spinning – workshops and open spin sessions
Saturday main ritual: "Carry the Fire: A Hero's Journey"
Sweat lodges facilitated by Doug Sundling
Clay making and pit kiln clay firing
Candle making
Pumpkin carving
Forging at Spirit Forge
Rituals and Ceremonies
Thursday 7:30pm – Ancestor Altar Lighting w/ Charlene Suggs @ Village Green
You are invited to the opening lighting the Ancestor Altar at the beginning evening of Autumn Fires. This decorated space to honor our ancestors is a tradition at Wisteria's Autumn Fires. This time of the year as the light fades, we naturally turn to thoughts of those who have gone before us.
Feel free to bring mementos of loved ones to place on this altar for the weekend at this opening. Bring a photo or object, Light a candle, write a tribute or tie a prayer to the web for our beloved ancestors. If you don't make it to the ceremonial opening, feel free to visit throughout the weekend.
Wisteria also has a permanent Ancestor Mound located near the Stone Circle in the Sacred Sites area. That space will be decorated and available for visits throughout the weekend as well.
Friday 7:30pm – Women's Circle w/ Jen Capone @ Spirit Circle
Let us come together to celebrate the darkness that comes with the turning of the Wheel. This is the time to look back at your year with gratitude and begin to slow our pace and relax in preparation for the year ahead. We will create a way to hear the voice of the Great Mother, to shift our gaze inward to heal our emotional and spiritual selves and to still feel connected to each other. When we truly appreciate the wild wisdom of darkness as much as we do the light, we honor the cycle of waxing and waning and our innate Sacred Feminine.
Friday 7:30pm – Men's Circle w/ Aaron Zimmerman @ Hickory Grove
This is a circle of men, all brothers at heart, where all will listen, not just to your words, but the emotions and honesty beneath. In this harvest season, we can gather to share the triumphs and hardships faced throughout the year. In the circle we can reflect on how we have measured to our goals, set back when the weather first warmed in the spring.
Saturday 7:30pm – Carry the Fire: A Hero's Journey w/ Wyrrd @ Heart Hearth then walking (wear good shoes)
The problem with building up heroes is that they cast longer shadows, allowing injustice a place to hide in the darkness. But the arc of the moral universe bends towards Justice and the light.
In this Autumn Fires ritual, we will walk the path of the Hero, explore what rests in the darkness of their shadows, and return from that journey emboldened with the light of community.