Wisteria Event Site and Campground hosts two major festivals this year, and hosts and facilitates several other events organized by outside groups. The campground is also open for work weekends and open camping many times throughout the year. Here is a partial list of events we present or host.
June 7-10, 2018
We begin our 2018 season with the return of the amazing Rootwire Transformational Arts Festival! See their website for tickets, lineup, and more information.
July 3 -8, 2018
The SubGenius X-Day festival returns again this year. See their website or Facebook page for more information.
July 10 – 16, 2018
Joyous, rowdy, and life changing, Starwood is a seven day celebration of diversity, alternatives in lifestyle, spirituality, belief systems, and is distinguished by its warm and welcoming community spirit. More information and tickets available online!
August 2-August 5, 2018
Traditionally, European cultures have celebrated the first fruits of the annual harvest at the beginning of August. Come to Wisteria and celebrate the beginning of the harvest season with bonfires, drumming, camping, dancing, and community.   Open camping
September 21- September 23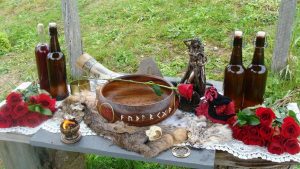 Come to Wisteria and join us in a traditional blot to Freyr, with a goat, in honor of the second harvest of the season. (If you do not understand what a "traditional blot" is, please contact Donna Donovan) By sharing a blot with the Gods we reaffirm our connection to them and thus reawaken their powers within us and their watchfulness over our world. There will be an orientation at the pavilion prior to ceremony.  As well as a community feast on Saturday…so bring your home-made contributions to the meal!  With Bonfires, feasting camping dancing and community
Please be advised that on Friday night we will be humanely slaughtering the goat during the Blot, then preparing the goat for Saturday's Blotfeast.