Wisteria offers many campground facilities and services. Here are a few that may be available at events.
Please note, hours listed are typical, and may vary by event.
Gate House – only open during certain events
Gate open 24/7, registration 9:00am – 11:00pm
The Gate House (Eco-Hut) is typically open 24 hours a day. Registration is available only from 9:00 am through 11:00 pm Thursday through Sunday of an event. During open camping weekends, you may be asked to register at The Market.
Market and Information
Current hours are 2:00pm – 6:00pm
The Market is painted green and purple and located adjacent to Caffeina's Coffee House. The Market offers camping, personal supplies, and Wisteria merchandise, as well as general information. Please check in here when the Gate House is closed.
WiFi available
WiFi is available in the majority of the campground.
You can purchase from your device when joining the network.
3 days – $5
5 days – $7
7 days – $10
First Aid – only open during certain events
The First Aid station is located in the same trailer as the Market, next to Caffeina's Coffee House. In the event of a medical emergency, if you are not near First Aid, summon help immediately from any Wisteria Staff person with a radio. In case of injury, report to First Aid where you can receive basic first aid treatment or be routed to a local hospital. Do not attempt to move an incapacitated person unless s/he is in immediate physical danger. There is always a radio at First Aid. If no one is immediately available, use the FRS radio on Wisteria Channel 3 to contact patrolling Wisteria Security/First Aid staff.
Food and Coffee
Hours vary by event
Caffeina's Coffee House – only open during certain events
In the Pavilion
Our in-house coffee shop features local muffins, cookies, cakes and many more treats depending on the season. We have your backwoods drink needs covered! We offer Pepsi products, La Croix sodas, Gatorade, iced tea, Red Bull and of course, COFFEE! We use locally roasted, organic, fair trade certified Silver Bridge Coffee, and offer a light roast, dark roast and Jamaican Me Crazy flavored blend. We have local Snowville Creamery 2% milk and half and half.
Hestia's Hearth Kitchen – only open during certain events
Located next to Caffeina's
There's no need to rough it when it comes to food. With our multi-generational love affair of working with food we delight in feeding the people. We make all our food home-style and try to add as many local/organic ingredients as we can. Dinners include a generous helping of sides as well as the entree. Compare our moderately priced meals, for healthy food, to the high cost of fast food. You will appreciate our home-style alternatives, served with a smile, in the beautiful fields of Wisteria. Many guests eat with us to save the time and cost of preparing and storing food at their encampment. Alternatively, you may want to eat some meals at your campsite, and some with friends at Caffeina's, or just grab it on your way to your favorite workshop. The choice is yours, we'll have the food hot and ready.
Kids' Village Playground – currently closed
The playground is available for the enjoyment of the children. Children must be accompanied by an adult while in the playground area.
Natural Swimming Pond
10:00am – 6:00pm (weather permitting)
Our natural swimming pond is open from 10:00am to 6:00 pm daily, weather permitting. Do NOT enter the pond area after it is closed. No lifeguard is on duty; swim at your own risk and obey all posted rules and regulations.
Portable Toilets
There are blue portable toilets located throughout the campground for your convenience. A disability-accessible portable toilet is available next to First-Aid. Please close the lid completely when finished to allow the convective process to function properly and keep the interior stink-free. If the toilet paper runs out please let a staff member know, and we will restock them promptly. Portable toilets are pumped every morning.
Trash
We are a pack in, pack out campground. Please plan to pack out any trash that you bring in. Trash services may be offered during events like Appalachian Summer Solstice 2021.
Trails
Enjoy a walk on the campground loop trails. Maps are available at the Wisteria office. The Yellow Trail has identification signs for Appalachian trees, plants and woodland herbs. Please respect the creatures that live here year round.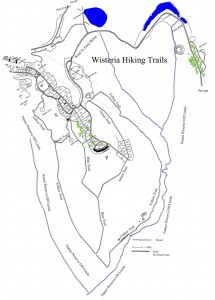 Water
There are potable water spigots located throughout the campground. Please do not do your dishes there, we do not allow soap to run on the ground. Please use the green spigot handles, not the large blue hydrant handles, to obtain water; the large blue hydrant handles will be taped or locked closed during events. You may attach a hose only temporarily, and only through a tee and vacuum breaker. RV / Camper hookups are not permitted.
Wood and Ice
Market / Caffeina's Hours
Firewood is available for purchase for $15.00 per level cartload. Ice is also available for $2.50 per 7lb bag. Pay at Wisteria Market or at Caffeina's Coffee House. Carts available to haul wood. Please return promptly.